Recommendations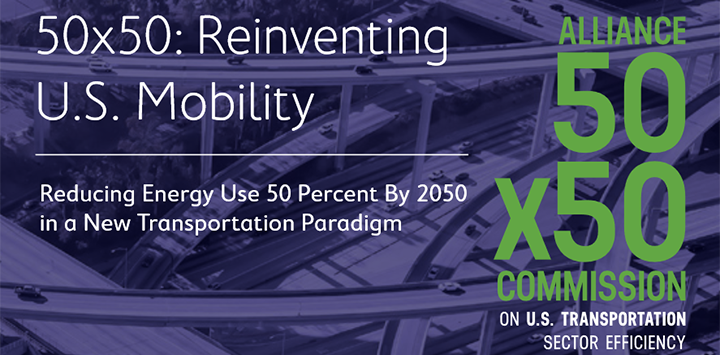 The 50x50 Commission articulated the goal to meet evolving transportation needs while reducing energy use 50 percent by 2050 – or, to put it simply, "50x50." This goal not only reduces energy use, but also drives co-benefits ranging from transportation affordability and environmental stewardship, to convenience and equity.
The 50x50 Commission worked for a year to identify the most impactful bipartisan policy solutions to move America toward achieving this goal. The result of their effort is "50x50: Reinventing U.S. Mobility," a set of consensus recommendations that urges the private sector and policymakers at all levels—local, state, and federal—to act in three key areas: transform, innovate, and invest.
Policy Proposal for Infrastructure and Surface Transportation Authorization:
Building on its 2018 general policy recommendations, members of the Alliance to Save Energy 50x50 Commission have produced a package of infrastructure proposals designed to create a strong foundation to achieve the "50x50" goal. This goal, to enable the United States to reduce energy consumption in the transportation sector by 50 percent by 2050, challenges us to reinvent our transportation system to be more efficient, productive, cleaner, and accessible. Strong, well-designed infrastructure is a fundamental requirement to achieve it.
These recommendations offer a concrete approach for federal policymakers considering infrastructure and surface transportation reauthorization proposals. They seek to proactively prepare the U.S. for a 50x50 future, by modernizing and increasing investment in critical programs, and recognizing that the transportation sector is changing rapidly and infrastructure development needs to anticipate future needs. This combination will enable the integration of new technologies and transportation methods to make our infrastructure more flexible and efficient.