50x50 Transportation Commission and Recommendations
The Alliance convened the 50x50 Commission on U.S. Transportation Sector Efficiency from 2017-2019 as a bipartisan collaborative and established the bold but achievable goal of reducing energy use 50% by 2050 – or, to put it simply, "50x50" – while meeting future mobility needs. This goal not only reduces energy use, but also drives co-benefits ranging from transportation affordability and environmental stewardship, to convenience and equity.
The Commission, a group of private and public stakeholders including automakers, utilities, public interest groups, product manufacturers, and technology providers, worked for two years to identify impactful bipartisan policy solutions to move America toward achieving the 50x50 goal. In 2018, the consensus report, "50x50: Reinventing U.S. Mobility," was released, providing a set of recommendations urging the private sector and policymakers at all levels – local, state, and federal – to act in three key areas: transform, innovate, and invest. In 2019, the Alliance joined members of the Commission to release a policy platform, "Building the Foundation for 50x50: A Policy Proposal for Infrastructure and Surface Transportation Authorization," for federal policymakers considering infrastructure and surface transportation reauthorization proposals designed to create a strong foundation to achieve the 50x50 goal.
The Alliance's 50x50 Transportation Action Network has since been formed to transform the vision and recommendations from these reports into reality.
Recommendations
Building the Foundation for 50x50: A Policy Proposal for Infrastructure and Surface Transportation Authorization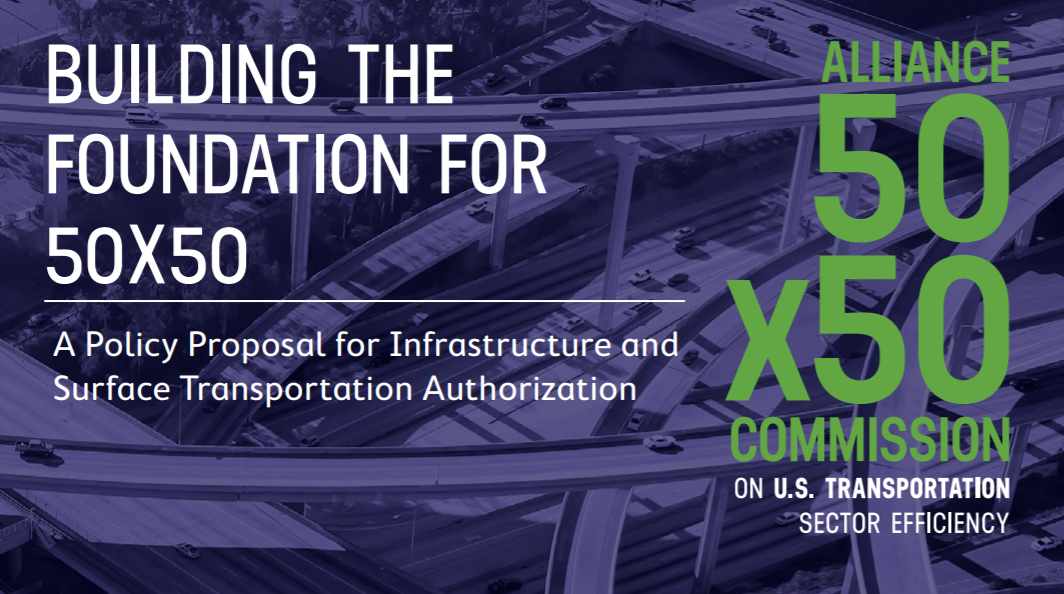 Key takeaways from "Building the Foundation for 50x50" include:
Establish a sustainable resource base for infrastructure development by identifying a sustainable and energy-efficient path forward for the Highway Trust Fund
Stimulate the development of electric vehicle charging infrastructure through new programs and adjustments to existing tax credits
Build in flexibility for technological innovation in the future
Pursue a well-balanced approach that looks beyond roads, bridges, and new builds
Empower state and local stakeholders to develop system-level solutions
Ensure a level playing field for energy-efficient transportation options and utilize fair labor practices
Modernize broad existing programs that support efficiency and boost financing resources
Ensure specific programs for transit, ports, and airports invigorate efficiency
Reinventing U.S. Mobility: Reducing Energy Use 50 Percent By 2050 in a New Transportation Paradigm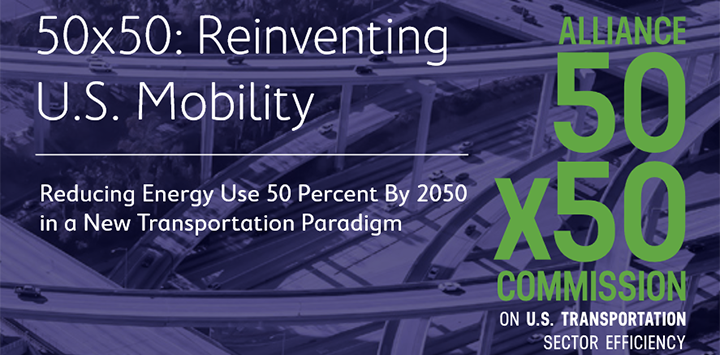 Key takeaways from "50x50: Reinventing U.S. Mobility" include:
Make investments that move us toward an integrated transportation services model of mobility
Maximize the fuel economy and efficiency of use for conventional vehicles
Accelerate the transition to more efficient alternative fuel vehicles, including electric vehicles and their charging infrastructure
Establish cross-sectoral dialogues to identify inconsistent or conflicting policies that inhibit transportation efficiency and explore collaborative solutions to address them
Invest in Research, Development, and Deployment (RD&D) to advance technological solutions to existing and emerging challenges
Get ahead of burgeoning trends such as automation
Sector Baseline Reports
The Technical Committees of the 50x50 Commission developed five "sector baseline" reports that assess the current state of energy efficiency within the transportation sector. The reports identify the general market trends for efficient transportation technologies and explore opportunities and challenges related to deploying those technologies.
The sector baseline reports cover the following five technology areas: