Join the Alliance for Great Energy Efficiency Day 2013: A Path to Double Energy Productivity-State and Local Success Stories
To showcase how communities across the country are working towards doubling energy productivity by 2030, you'll hear success stories from business, state and local government leaders on how they are working to make the United States one of the world's most energy-efficient economies, one city at a time. Confirmed speakers include:
Assistant Secretary for Energy Efficiency and Renewable Energy, Dr. David Danielson
Senator Rob Portman (R-OH)
Senator Jeanne Shaheen (D-NH)
Congressman Michael Burgess (R-TX)
Congressman David McKinley (R-WV)
Dr. Kathleen Hogan, Department of Energy
Jesse Ander, Grundfos
Sue Gander, National Governor's Association
Christina Halfpenny, Massachusetts Department of Energy Resources
David Jacot, Los Angeles Department of Water and Power
Melissa Lavinson, Pacific Gas & Electric
Sean McBride, Ingersoll Rand
Frank Murray, NYSERDA (retired)
Jim Pauley, Schneider Electric
Emily Small, Energy Management at NYC Department of Citywide Administrative Services
Even a government shutdown couldn't stop the 2013 Great Energy Efficiency Day (GEED). After a seven week delay, more than 250 energy experts, leaders and efficiency champions descended on Capitol Hill on November 20 to discuss and advocate for the Energy 2030 goal of doubling energy productivity by 2030.
Sponsored by Alliance Associates Grundfos, Ingersoll Rand, Pacific Gas & Electric, and Schneider Electric, this year's GEED included Members of Congress as well as representatives from local, state, and federal agencies/organizations highlighting success stories and areas for further growth. Keynote speakers included Assistant Secretary for Energy Efficiency and Renewable Energy Dr. David Danielson, Senators Rob Portman (R-OH) and Jeanne Shaheen (D-NH), as well as Representatives Michael Burgess (R-TX) and David McKinley (R-WV). Congressman Paul Tonko (D-NY) also made a surprise visit to add his support for energy efficiency.
Industry Partnerships Drive Energy Efficiency
Representatives from the four corporate sponsors highlighted their innovative ideas and best practices for driving energy productivity.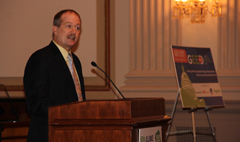 Partnering with Efficiency Vermont, Grundfos shared how it increased market penetration for its circulator pumps which are over four times as efficient as traditional pumps.
Schneider Electric underscored its partnership with North Carolina State University that successfully saved that institution $1.5 million by reducing energy usage by 10 million kWh.
As panel moderator, Deputy Assistant Secretary for Energy Efficiency, Dr. Kathleen Hogan, emphasized that the space for opportunity in energy efficiency advancement remains large, echoing the exciting work of these industry leaders.
Learning by Example
Highlighting the possibilities for state and local level governments, panelists also discussed ambitious goals and inventive initiatives working to advance energy efficiency.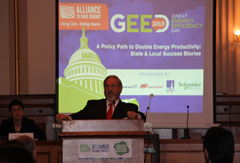 The Los Angeles Department of Water and Power plans to meet 45% of its 2025 power needs through energy efficiency and renewables and Massachusetts continues to lead the country in energy efficiency and to meet their goal to reduce energy use 35% by 2020. On both coasts and in between, speakers emphasized the ability of governments to drive energy efficiency forward.
Frank Murray, retired president and CEO of NYSERDA, , believes working at the state or local level is the most rewarding because you can see how the programs you have implemented are making a direct, tangible difference in people's lives.
A Time for Bipartisanship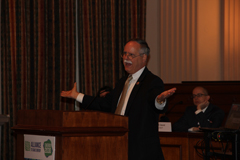 Democrats and Republicans continue to agree that energy efficiency is an area for bipartisan support. Senators Rob Portman (R-Ohio.) and Jeanne Shaheen (D-N.H.) both touted the merits of S. 1392, the Energy Savings and Industrial Competitiveness Act (better known as Shaheen-Portman), noting that according to analysis by the American Council for an Energy-Efficient Economy (ACEEE), the legislation would create 136,000 jobs by 2025 and save $14 billion. Support for comprehensive energy efficiency legislation was also given a strong endorsement by Rep. David McKinley (R-WV) who stated that the companion bill to Shaheen-Portman that he introduced with Rep. Peter Welch (D-VT) (H.R. 1616) is legislation Congress should embrace and move forward with gusto. Both Senators and Representatives agreed that now is the time for bipartisan energy efficiency legislation.
GEED 2013 continued a strong tradition of advancing energy efficiency on Capitol Hill and beyond and was an important step in implementing Energy 2030.