Revving Up Heavy-Duty Vehicle Efficiency
Heavy-duty vehicles may make up a small portion of vehicles on the road in the U.S., just 4 percent in 2010, but they were responsible for 25 percent of on-road fuel use and greenhouse gas emissions in the transportation sector that same year. So while they're a "small" player in terms of sheer number, they offer a large opportunity to increase the energy productivity of this key part of the transportation sector.
The Obama Administration took note of this opportunity in 2011 when they issued the first-ever fuel efficiency standards for heavy-duty vehicles, covering model years 2014 through 2018. Those standards are estimated to save vehicle owners and operators $50 billion in fuel costs, save 530 million barrels of oil, and reduce CO₂ emissions by 270 million metric tons.
Going a step further, President Obama pledged to develop post-2018 heavy-duty vehicle standards in last summer's Climate Action Plan. On Tuesday he followed through on that promise, officially directing the EPA and the DOT to establish the next round of fuel efficiency standards, and setting a timetable for their development. The agencies are expected to issue a Notice of Proposed Rulemaking by March 2015, and the final rule by March 2016.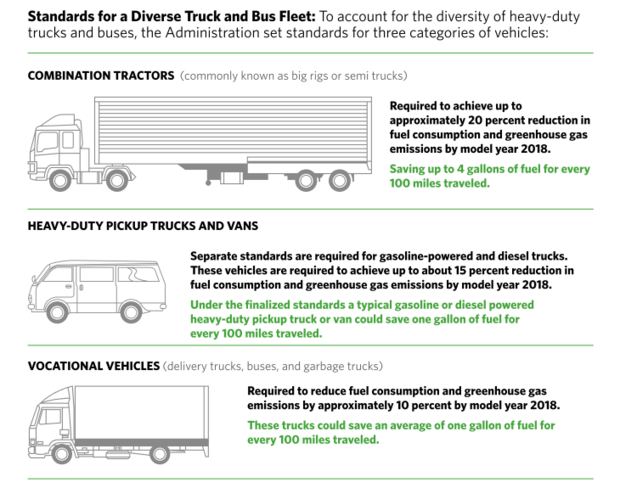 The new standards for heavy-duty vehicles—combined with the recently updated fuel efficiency standards for cars and light trucks—will play a key role in achieving the President's goal of doubling U.S. energy productivity by 2030. As the President explained on Tuesday,
"And improving gas mileage for these trucks are going to drive down our oil imports even further. That reduces carbon pollution even more, cuts down on our businesses' fuel costs, which should pay off in lower prices for consumers. So it's not just a win-win, it's a win-win-win. You've got three wins."
During Tuesday's speech the President also highlighted the continued success of the National Clean Fleets Partnership, a public-private partnership that helps the nation's largest fleet operators reduce their gasoline and diesel use. 23 major companies—representing more than one million commercial vehicles nationwide—have signed on to the partnership.