From the President's Desk: Who Says Energy Policy Work Isn't Exciting?
An energy efficiency spring in D.C. is popping up early this year – very early indeed! As February comes to an end, the year already has witnessed significant action impacting energy efficiency at the national level.
Specific highlights (and "low lights") from the past few weeks include action by all three branches of government: the Supreme Court was twice in the spotlight, first upholding FERC Order 745 relating to demand response and then narrowly voting to push "pause" on implementation of the Clean Power Plan. And as has become expected from our "Energy Efficiency Champion in Chief", President Obama's final budget proposal increases funding for two of the U.S. Department of Energy's (DOE) offices – the Office of Energy Efficiency & Renewable Energy (EERE) and its Advanced Research Projects Agency-Energy (ARPA-E). Additionally, DOE continues its legislated march to bring us better-performing, more efficient light bulbs with the issuance of a proposed new light bulb standard that is scheduled to take effect in 2020.
Meanwhile, on Capitol Hill, the Senate began consideration of S.2012, the Energy Policy Modernization Act of 2015, which contains many energy efficiency provisions drawn largely from the Portman-Shaheen energy efficiency bill, the Energy Savings and Industrial Competitiveness Act of 2015. In the other chamber, the House Science, Space and Technology Committee held a hearing entitled Midnight Regulations: Examining Executive Branch Overreach, which provided me with the opportunity to "make the people's case" for energy efficiency appliance, equipment and vehicle standards.
And as the primary season lurches toward Super Tuesday, presidential candidates on both sides of the aisle have continued to provide promising discourse on energy efficiency, supplying confidence that the next administration will continue to value efficiency's wide-ranging benefits.
I hope you'll take a few minutes to dive into some of the details below about what is happening in our nation's capital and at the Alliance to Save Energy! (And, don't forget to read my "P.S." on EE Global coming up in May.)
An Unpredictable Few Weeks at the Supreme Court
The Supreme Court has made two far-reaching decisions so far this year that impact the energy industry. On January 26, the Supreme Court found that the Federal Energy Regulatory Commission (FERC) had the authority to regulate demand response programs under the Federal Power Act (FPA), and that it "engaged in reasoned decision-making" when setting the wholesale rate for demand response compensation. This decision is a monumental win for demand response participants and consumers alike, as proper compensation and robust market participation will result in lower prices, increased reliability and more efficient operation in U.S. electricity markets.
Then, just 15 days later, the Supreme Court decided narrowly to stay the Clean Power Plan while the D.C. Circuit Court reviews the merits of the legal challenges opposing the rule. While it is unfortunate to see a legal "pause button" pushed for states already underway with their planning processes, it is important to recognize that this in no way reflects a final decision on the merits or legality of the Clean Power Plan. We at the Alliance will continue to support states' efforts to reap the benefits of energy efficiency as the fastest, easiest and most cost-effective method of compliance. As the legal challenges are addressed in the coming months, states will not only move forward again with their planning, they will also be reminded that they already have opportunities on hand to bring real benefits to consumers through energy efficiency.
Administration Action: Obama's Final Budget & Proposed New DOE Light Bulb Standards
The Alliance commends President Obama and his team at DOE and the Office of Management and Budget (OMB) for finishing up their tenure the way they began – with solid and stalwart support for national investments in a clean and efficient energy future. The administration's budget proposal for fiscal year 2017 once again calls for significant increases in funding for energy efficiency and new initiatives – increases that will improve our energy productivity and the competitiveness of our economy. In particular, the Alliance applauds the decision to double budgetary support for clean energy technology R&D as part of the Mission Innovation initiative announced last year.
Of specific interest to efficiency advocates, the budget proposes increased funding for DOE's Office of Energy Efficiency and Renewable Energy (EERE) to $2.9 billion in FY 2017, with nearly one-third of this funding going to energy efficiency and advanced manufacturing programs. Additionally, the budget allocates $500 million for the Advanced Research Projects Agency—Energy (ARPA-E) – a move that will spur innovation in energy-efficient technologies while improving the energy security of the United States and saving American tax dollars. These budget increases comport directly with the Alliance's long-standing calls to double federal funding for energy efficiency and follow the recommendations that the Alliance, DOE and other partners have made via the Accelerate Energy Productivity 2030 initiative to increase investment in efficiency.
On February 12, DOE also announced its proposal for new light bulb efficiency standards as mandated under the Energy Security and Independence Act (EISA) of 2007. A final rule is to be issued by January 2017 and would go into force in 2020. Some estimate that if fully promulgated, DOE's latest light bulb standard would save an average American household about $90 in annual energy costs – about one month's electricity bill for the average American family.
The Alliance was proud to play a role in the establishment of light bulb efficiency standards and we look forward to working with DOE, manufacturers and efficiency advocates to shape this new and more aggressive standard. As always, our goal is to find solutions that work for diverse stakeholders and that benefit American businesses and consumers.
Update: Senate Comprehensive Energy Bill Deliberation
Over in the Senate, the debate on a comprehensive energy bill, S. 2012, the Energy Policy Modernization Act of 2015, began with an encouraging start in late January. Early votes provided important momentum that we hope will help propel this bill across the finish line in a bipartisan fashion. In particular, we applaud the vote in favor of dramatically increasing funding for ARPA-E. This move will direct more resources to support much-needed technologies and products into the pipeline, which our country needs to meet our goal of doubling America's energy productivity by 2030.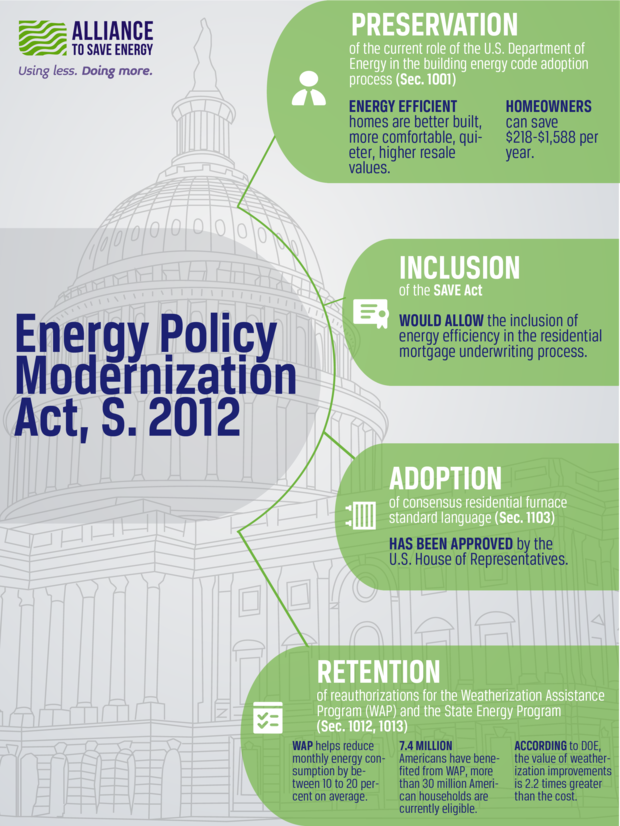 As of this writing, however, the bill's status is uncertain. Senators have many issues to address, including the drinking water crisis in Flint, Mich. – but not many days left in session. Many amendments to S. 2012 are pending, and many more have been offered. We at the Alliance are urging the Senate to complete its work and pass meaningful, comprehensive energy legislation with robust energy efficiency provisions. Stay tuned for what we hope will be good news and a huge step toward delivering an energy bill with strong efficiency provisions to President Obama's desk.
Testimony to the House Science, Space and Technology Committee
On Wednesday, February 10, I was privileged to provide testimony to the House Science, Space and Technology Committee in support of energy efficiency standards for appliances, equipment and vehicles. The focus of the hearing was to examine whether the trend of end-of-term increases in regulatory actions, which peaked under President George W. Bush, will continue as the Obama Administration wraps up its business and prepares for the post-election transition. I was able to point out to the Committee that any increase in standard setting would not derive from suspicious purposes, but would rather reflect an urgency on the part of DOE and other agencies to meet mandates set by Congress and/or court orders.
There is clear interest on the part of the House Science Committee to learn more about energy efficiency standards. We wanted to establish for the record the long and bipartisan history of efficiency standards and the long and significant list of benefits to consumers and businesses. The hearing was a great opportunity for the Alliance to bring our message to a new audience of policymakers.
Beyond 2016: GOP and Democratic Party Presidential Candidates Value Energy Efficiency
As the presidential primary season heats up and takes its unpredictable twists and turns, we are encouraged by consistent comments made by multiple candidates on both sides of the aisle communicating the value of energy efficiency and envisioning a future in which the U.S. leads the world in energy efficiency practices and implementation. Recent comments from Marco Rubio, John Kasich, Hillary Clinton and Bernie Sanders provide optimism for sound energy policies in a new administration. We look forward to working with candidates throughout the election cycle and at the national conventions in July to ensure that energy efficiency remains an important part of the national election debate.
So, in summary – despite a record snowfall just a few weeks ago – an energy efficiency spring is upon us in the nation's capital. We have key supporters in all branches of government, along with our Board, Associate members and allies, to thank for their relentless hard work for energy efficiency. 2016 is well on its way to becoming another watershed year for energy efficiency.
Let's keep the momentum going,
Kateri Callahan
Alliance to Save Energy President

P.S. – Join us at EE Global 2016!
By now, you should have received your invitation to attend the 2016 EE Global Forum being held on May 11-12 in Washington, D.C. The theme of this year's event – Driving Productivity and Profitability through Energy Efficiency – focuses on the economic benefits of energy efficiency and examines how public and private sector organizations across the globe are increasingly using energy efficiency as a means to improve their bottom lines.
As always, the Forum will feature the robust agenda and high-level attendees you have come to expect. New this year will be the Solutions Showcase – an interactive, audience-driven video contest – and a networking event that promises to increase partnership and business opportunities. If you have not already claimed your complimentary ticket, please visit the registration site and enter the code EELEADER16 to confirm your attendance. I hope to see you there!