Introducing the SPOT for Clean Energy
A powerful new state energy policy resource
The State Policy Opportunity Tracker (SPOT) for Clean Energy is a first-of-its-kind database that enables users to quickly identify existing clean energy policies across states – and to "spot" policy gaps. This easy-to-use and free resource was developed by the Center for the New Energy Economy at Colorado State University in partnership with The Nature Conservancy.
How does the SPOT for Clean Energy work?
CNEE started with a list of 38 clean energy policies, including several specific to energy efficiency – decoupling, cost/benefit tests, energy efficiency resource standards (EERS), building codes, lead by example programs, combined heat and power (CHP) and low-income weatherization. For each policy, we asked five questions pertaining to key policy components for each state. Fifty states, 38 policies and five key component questions per policy adds up to more than 9,500 individual pieces of data all sourced from within the public domain.
These data were sourced from 18 different policy organizations, including the Database of State Incentives for Renewables and Efficiency (DSIRE), American Council for an Energy-Efficient Economy (ACEEE), and the U.S. Department of Energy. SPOT also draws directly from another CNEE database – the Advanced Energy Legislation Tracker – which tracks all state clean energy legislation. In this way, SPOT allows the user to evaluate existing policies that states have on the books as well as policy changes that are currently in play at state legislatures. For more on the methodology behind SPOT, visit our About page.
How can energy efficiency advocates around the country leverage the SPOT for Clean Energy to achieve a doubling of energy productivity?
The advancement of clean energy policy in the U.S. has overwhelmingly been at the state level and we at CNEE believe that trend will continue. By providing state specific and policy specific resolution, the SPOT for Clean Energy should prove a valuable resource in the push to double U.S. energy productivity.
State specific: One of the immediate ways it can be applied is to look at the policies in place within the states that participated in the Alliance to Save Energy's 12-state Energy 2030 On the Road State and Local Campaign. For example, Pennsylvania's gap analysis (below) shows policy opportunities around decoupling and cost/benefit tests, both of which would advance market certainty for energy productivity.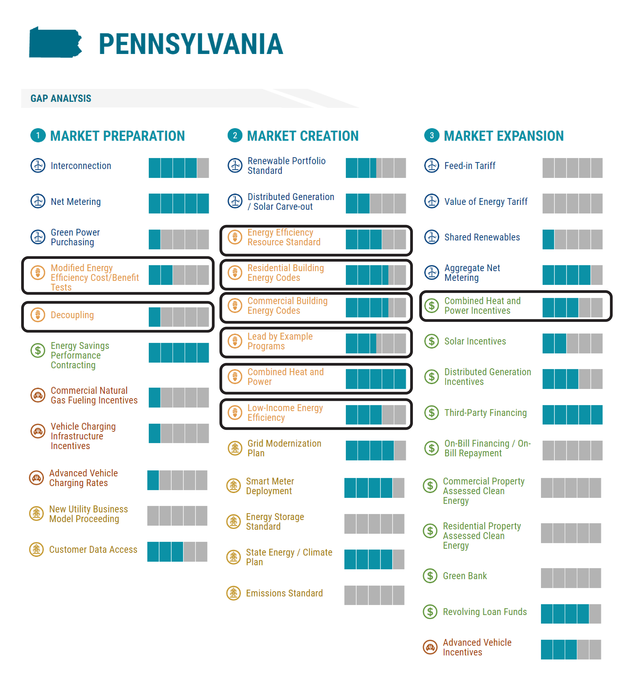 Policy specific: Users can also analyze individual policy development in each state. For instance, take a look at the 50-state EERS gap analysis (below). This 50-state view gives the user a quick snapshot at the level of specific policy development across the country.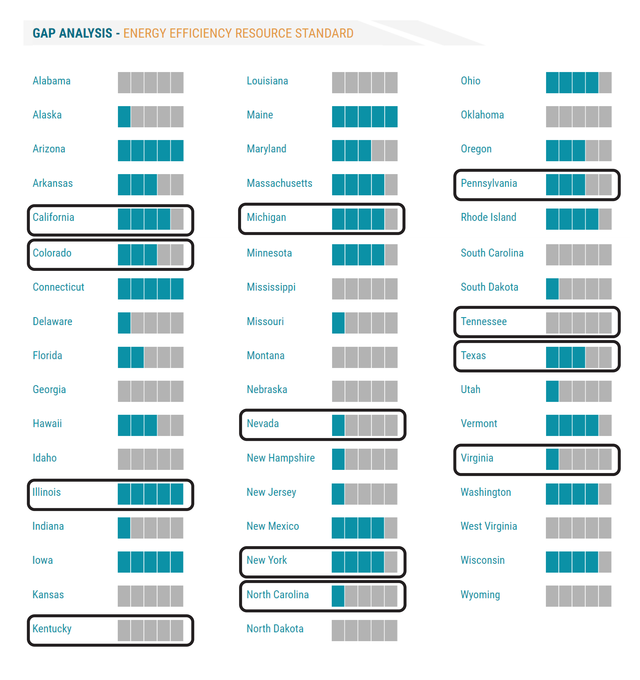 I encourage energy efficiency advocates around the country to take a close look at resources the SPOT for Clean Energy has to offer. In addition to the gap analysis, there are downloadable policy briefs with background explanations for each policy and links to a wealth of additional information. Think of the SPOT for Clean Energy as a starting point for your next state clean energy policy discussion.