World Water Day: The Power of Water and Jobs
This guest blog post was written by William Varley, American Water's Senior Vice President, Northeast Division.
World Water Day is an annual event celebrated on March 22.
The spirit of the annual UN World Water Day is for people everywhere to show that they care about water and that they have the power to make a difference on both a local and global level. It's easy to find inspiration in the messages available at www.unwater.org/worldwaterday, which this year focus on the power that water and jobs have to transform people's lives. Nearly all jobs have a direct relationship to water and it is truly our most precious resource.
Of course, those of us in the industry always have water on our minds. Our livelihoods depend on successfully delivering and treating water to the highest possible standards, which in turn impacts the livelihoods of those we serve. That's why we're constantly looking for new creative concepts to its management and delivery -- sometimes even in older places. In one recent project, we took an innovative approach to traditional geothermal and developed a new application that lowered energy costs and reduced a 40,000-square-foot school's carbon footprint without utilizing fossil fuel in the winter months.
The geothermal system at the William L. Buck Elementary School in Valley Stream, NY uses the thermal properties of water as it passes through a heat exchanger. Using geothermal energy systems in schools is not a new idea -- they have been successfully used in other states like Iowa, Illinois and New Mexico for some time. And although geothermal technology in general has 
been in use since the 1950s, this implementation is unique: the water is pumped from the mains 
through a heat exchange unit within the school to heat
 and cool the building. This system differs
 from traditional "closed loops" systems that require drilling a series of recirculation loops to normalize the temperature of the water. Instead, water is drawn from the water main, making the geothermal installation expedient, cost efficient and less invasive.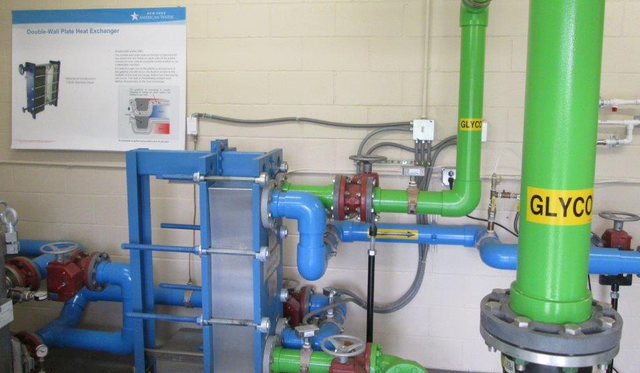 For the first time ever, the William L. Buck Elementary School can be cooled in summer, enabling the school district to relocate summertime programs and events to the facility. The broader view on this project is that it could help transform how traditional geothermal systems are implemented and introduce a new application in renewable energy.
Water improving education, and education improving job prospects…it's not hard to see the ultimate connection to World Water Day's theme. Just as water and energy go hand-in-hand, water and jobs are inextricably connected. See what you can do to help, and find more inspiration here at http://www.unwater.org/worldwaterday/learn/en/.