There's Hope for Our Homes in Congress' Build Back Better Legislation
Let's Save Energy
Alliance to Save Energy's Blog
There's Hope for Our Homes in Congress' Build Back Better Legislation
With Congress apparently nearing agreement on two packages of legislation that would be historic for the U.S. energy transition, much of the media attention has focused on tense negotiations on what makes it into the final bill text. The conversation has particularly zeroed in on the fate of high-profile provisions such as the Clean Electricity Performance Program (CEPP), which appears to have hit the cutting room floor.
What's hidden from view through that incomplete frame is the nearly $555 billion still in play to cut carbon emissions through other measures such as energy efficiency. Not the least among those provisions is the HOPE for HOMES Act, which would help provide rebates for families to afford energy-efficient products and train the energy efficiency workforce for evolving needs.
WHERE NEGOTIATIONS STAND
On September 27, the House of Representatives indefinitely delayed a scheduled vote on the $550 billion bipartisan infrastructure framework (BIF) that had been promised by Speaker Nancy Pelosi (D-Calif.) to a handful of moderate Democrats in order to allow continued negotiation on a proposed $3.5 trillion budget reconciliation package housing most of President Joe Biden's Build Back Better (BBB) agenda. Since then, the internal debate has wrestled with whether the Democratic caucus can unilaterally advance a budget package that includes bold climate provisions. Apparently, it can.
A bold climate vision is expected of President Joe Biden as he departs for an international trip including the climate summit COP26 in Glasgow, Scotland. Although House leadership may end up punting again on a tentative plan to vote on the bipartisan bill this week, agreement appears to be near. Chatter from each segment of the caucus indicates that it's close to a framework with a budget topline of $1.5 to $2 trillion.
Whether or not a vote is held on either bill before POTUS departs, one thing is abundantly clear – if the Build Back Better Act is going to meet its promises of cutting carbon emissions while keeping consumer energy costs low, it's critical for the remaining provisions to help reduce consumption of energy through energy efficiency. The workforce training and home energy efficiency rebates that would be established through the HOPE for HOMES provisions and electric appliance rebates in the bill are critical to meeting U.S. decarbonization goals of 50% by 2030. Congress should resist any urge to reduce or replace them.
HOPE FOR HOMES AND ELECTRIFICATION REBATES
HOPE for HOMES was introduced as H.R. 3456 by Reps. David McKinley (R-W.Va.) and Peter Welch (D-Vt.) – both longstanding members of the Alliance Honorary Board of Advisors. Its Senate companion is S. 1768, introduced by Sen. Chris Van Hollen (D-Md.) and cosponsored by Honorary Chair Sen. Jeanne Shaheen (D-N.H.) and Vice-Chair Sen. Chris Coons (D-Del.).
HOPE refers to the Home Energy Performance-Based contractor training program that would provide $500 million to meet the new demands of an increasingly digitalized job sector. HOMES is the Home Energy Savings Retrofit Rebate Program, which would deliver $8.5 billion in HOMES grants that were developed in a bipartisan fashion and are supported by a broad coalition of stakeholders.
Rebates are a direct-pay option, as opposed to tax incentives such as 25C that "credit" a percentage of allowable investments against taxes owed when filing annual tax returns. Rebates can be more attractive to lower income homeowners that don't have enough "tax appetite" to take advantage of the traditional credits.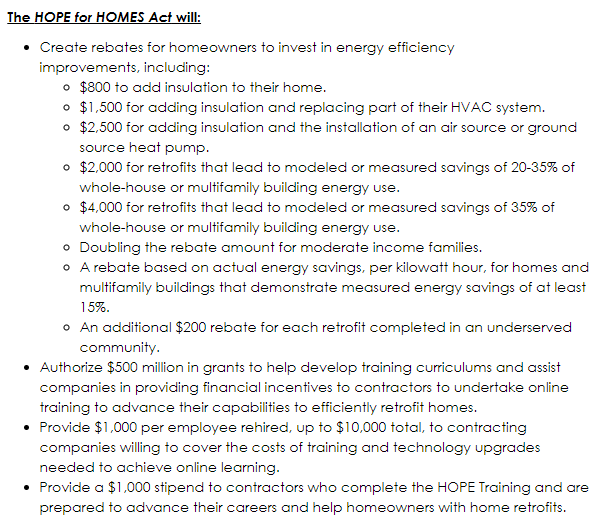 (Source: Office of Rep. Peter Welch)
Furthermore, the Build Back Better Act includes $9 billion for incentives to households, including $5.5 billion targeted for low-income households, to purchase high-efficiency electric appliances and equipment including heat pump HVAC and water heaters – also critical to reducing the emissions and operating costs of our homes. Homes built with less efficient energy systems disproportionately impact low-income households, who often must choose whether to "heat or eat," that is, whether to pay utility bills or meet other household needs.
HOPE for HOMES and the electrification rebates might not be leading in the headlines, but these provisions would go a long way toward helping American families makes their homes safer, more sustainable, and more cost-effective. So what comes next? Because the bipartisan infrastructure framework includes a 5-year extension of the surface transportation authorization, which will expire October 31, there is an effort being made at wrapping up the BIF and reconciliation package by Halloween. Coming to an agreement by then appears improbable, so a short-term punt is likely.
We can afford a short delay. What we can't afford is to waste energy and money for decades. President Biden can and should take credit for more than half-a-trillion dollars in climate investments in Glasgow. Congress should take the time to do it right in Washington, D.C.
STAY EMPOWERED
TAKE ACTION
Help the Alliance advocate for policies to use energy more efficiently – supporting job creation, reduced emissions, and lower costs. Contact your member of Congress.
JOIN US
Energy efficiency is smart, nonpartisan, and practical. So are we. Our strength comes from an unparalleled group of Alliance Associates working collaboratively under the Alliance umbrella to pave the way for energy efficiency gains.
DONATE
The power of efficiency is in your hands. Supporting the Alliance means supporting a vision for using energy more productively to achieve economic growth, a cleaner environment, and greater energy security, affordability, and reliability.