Olympic Energy Efficiency Standards Fall Short
Sporting events are unique for their ability to bring people together. This phenomenon is most obvious during the Olympics, when billions of people tune in to watch a few thousand athletes from a couple hundred countries compete for the gold.
We truly love the athleticism, entertainment and national pride of the Olympics. However, there are issues in Sochi that should be addressed by the International Olympic Committee (IOC) in order to save huge amounts of energy and resources at future Games.
Climate:
Many of us picture Russia as having a vast, icy landscape, and subsequently assume it would be an ideal location for the Winter Olympic Games. However, this image doesn't quite encapsulate the entirety of the largest country in the world. The climate in Sochi, home to the 2014 Winter Games, is actually sub -tropical and temperatures rarely dip below freezing. A huge amount of energy, money and resources have been invested in creating an appropriate landscape for the Games, contributing to the largest Olympic price tag in history.
Buildings:
Many host cities have faced the challenge of maintaining sporting venues and facilities once the Games are over. Recently, Athens, Beijing and London have been trying to deal with unused and crumbling buildings. Sochi will face similar if not greater issues. It is the first city to build an Olympic Park, with 7 buildings created from scratch in a circular set up. It isn't realistic for those facilities to be used after the Olympics since they are confined to such a small space.
Infrastructure:
We're all about energy efficient public transportation systems, but there has to be careful planning and execution. Because of the aforementioned climate issues, road and rail links had to be constructed to connect coastal and mountain sporting venues. The total cost? $8.7 billion. Since Sochi is a vacation destination, it's unlikely that the trains will be used frequently enough for the energy savings to offset the huge cost.
Our Suggestions:
What is being done right? Sochi's Fisht Olympic Stadium, home to the opening and closing ceremonies, is fairly energy and resource friendly. The stadium is illuminated at night with impressive LED displays, and will be a future venue for the Russian national football team and one of 11 stadiums to host the 2018 World Cup. The inclusion of efficient features to the structure and the plans to use the venue again in the future show that it is possible for Olympic facilities to be less wasteful.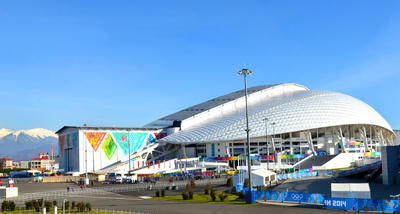 Currently, the IOC helps fund a "knowledge transfer" to help future host cities learn from past organizers. Since hosting the Olympics is such a huge endeavor, it makes perfect sense to have this sort of program set up. The IOC also has 11 technical standards in selecting host cities, and while laying out these types of standards is important, it is unclear if Sochi and past cities have actually met those criteria. Regulations should be outlined with more detail so that host cities can be held accountable. Additionally, clear energy and sustanability standards should be established so that sporting venues, transportation and other infrastructure waste less money and energy.
Ultimately, it is up to organizers and officials in charge of selecting host cities to uphold strict sustainability and energy efficiency standards. The Olympics should be a tradition that is maintained for many years to come, and we only hope future Games will waste less energy and fewer resources while still providing the world with incredible sport and spectacle.