Here Are the NFL's 5 Most Energy-Efficient Stadiums
Let's Save Energy
Alliance to Save Energy's Blog
Here Are the NFL's 5 Most Energy-Efficient Stadiums
The NFL playoffs are rolling right along, with all the electrifying plays and nail-biting endings you've all come to expect and love (sorry Chiefs fans). So with that in mind, and the energy palpable for more playoff football, it seems like an ideal time to take a look at how our favorite football teams are advancing energy efficiency.
So without further adieu, here are the 5 stadiums doing the most to save energy. Did yours make the cut?
1. METLIFE STADIUM: NEW YORK GIANTS AND NEW YORK JETS
Photo: MetLife Stadium Fireworks. Credit: MetLife Stadium.
MetLife Stadium, home to both the New York Giants and the New York Jets, was built in 2010 with an eye on becoming a green stadium. As a first step, the MetLife Stadium Company signed a Memorandum of Understanding (MOA) with the Environmental Protection Agency (EPA), pledging to become an environmental steward and implement carbon footprint reducing initiatives. While MetLife Stadium is more than twice the size as the original Giants Stadium in terms of square footage, there has been a reduction of energy use of around 30%, due to initiatives such as:
Water efficient plumbing which reduces MetLife Stadium's annual water demand by 25% compared to Giants Stadium;
An automated lighting control system which helps minimize energy consumption; and,
Energy efficient Low E coating of windows which reduces heat gain by 24% compared to Giants Stadium.
2. LINCOLN FINANCIAL FIELD: PHILADELPHIA EAGLES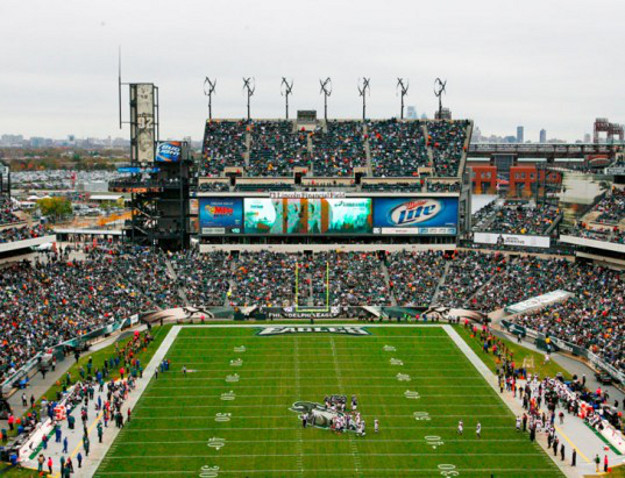 Photo: Lincoln Financial Field. Credit: Philadelphia Eagles.
Since the facility opened in 2003, Lincoln Financial Field has made it a top priority to reduce its environmental footprint. With all its energy conservation programs, Lincoln Financial Field has reduced its electricity consumption by 33%. Additionally, the Eagles are in the process of installing over 2,000 solar panels, 80 wind turbines and a generator that runs on natural gas and biodiesel to make Lincoln Financial Field the first professional stadium in the United States to be energy self-sufficient. Some interesting stats include:
Increased monitoring and management decreased energy usage by 21% from 2009 to 2010;
100% of team operations are powered by purchased wind power, augmented by solar power generated at Lincoln Financial Field.
3. CENTURYLINK FIELD: SEATTLE SEAHAWKS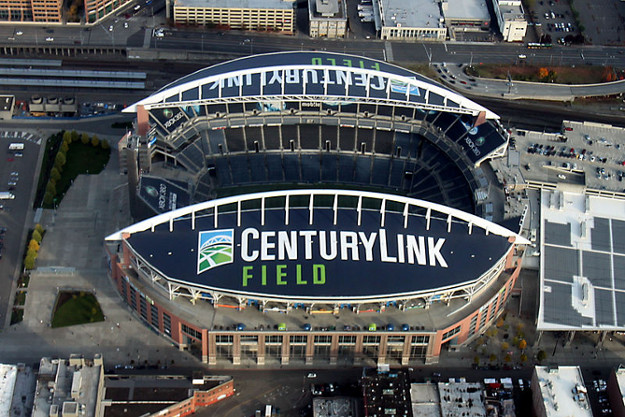 Photo: Aerial CenturyLink Field November 2011. By Jelson25 [CC-BY-SA-3.0 (https://creativecommons.org/licenses/by-sa/3.0)], via Wikimedia Commons.
CenturyLink Field, home to the Seattle Seahawks, is one of the most energy- efficient stadiums in the nation due to its policies, programs, and initiatives to reduce energy. This has not only helped the environment, but has also helped Century Field's bottom line as its upgrades have reduced its annual utility costs by 21%. CenturyLink Field's energy efficiency initiatives include:
Point-of-use lighting controls in concession stands, restrooms and storage spaces have cut energy usage throughout the facility;
Low-flow water fixtures save 1.3 million gallons of water annually; and,
Immediate access to the train, subway and bus terminal encourages use of public transportation. For those driving, CenturyLink offers six electric vehicle charging stations.
4. SOLDIER FIELD: CHICAGO BEARS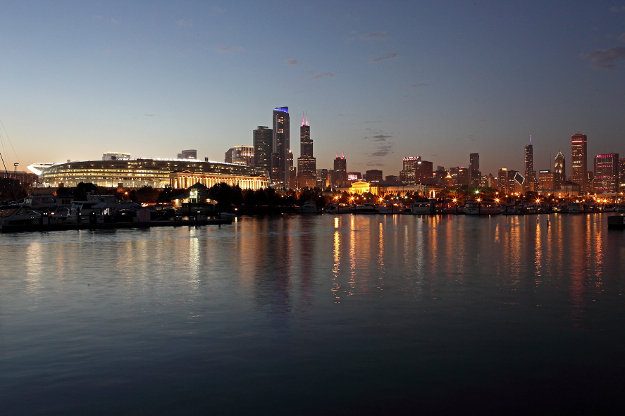 Photo: Soldier Field. Credit: Soldier Field
While the Chicago Bears' Soldier Field is the nation's oldest NFL stadium, it is quite energy-efficient. In fact, Soldier Field is the only NFL stadium to receive the U.S. Green Building Council's Leadership in Energy and Environmental Design (LEED) certification following its 2003 renovation, which included:
Free charging stations in its parking lots encourage the use of electric vehicles; and,
LED lights which replaced the field's traditional lighting.
5. GEORGIA DOME: ATLANTA FALCONS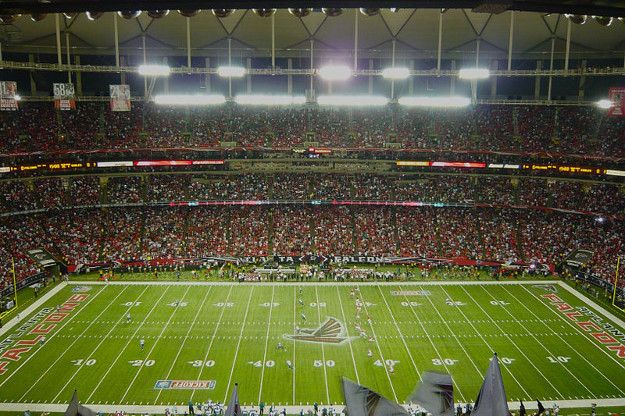 Photo: The Atlanta Falcons kick off to the Philadelphia Eagles at the Georgia Dome on September 18, 2011. By Yk Yk Yk [CC-BY-SA-3.0 (https://creativecommons.org/licenses/by-sa/3.0)], via Wikimedia Commons.
The Georgia Dome, which is home to the Atlanta Falcons, made several energy efficiency upgrades as part of a 2009 renovation. In addition to the physical renovations that have taken place over the years, the Georgia World Congress Center Authority has a goal to educate its staff about sustainability practices. Employees participate in workshops called "Growing Green" to ensure that these practices are adopted at the Georgia Dome.
Renovations that made the Georgia Dome more efficient include:
An automated control system that regulates the entire dome's HVAC system;
Energy-efficient florescent and metal halide lighting; and,
Low-flow toilets and urinals to help reduce water consumption.
STAY EMPOWERED
TAKE ACTION
Help the Alliance advocate for policies to use energy more efficiently – supporting job creation, reduced emissions, and lower costs. Contact your member of Congress.
JOIN US
Energy efficiency is smart, nonpartisan, and practical. So are we. Our strength comes from an unparalleled group of Alliance Associates working collaboratively under the Alliance umbrella to pave the way for energy efficiency gains.
DONATE
The power of efficiency is in your hands. Supporting the Alliance means supporting a vision for using energy more productively to achieve economic growth, a cleaner environment, and greater energy security, affordability, and reliability.