An Energy-Efficient, Digitally-Connected Smart Neighborhood is Here Right Now
Let's Save Energy
Alliance to Save Energy's Blog
An Energy-Efficient, Digitally-Connected Smart Neighborhood is Here Right Now
This guest blog post is authored by Jim Leverette, Southern Company Research and Development (R&D) Engineer.
Southern Company and its Alabama Power subsidiary are proactively simulating what one possible future may hold for energy providers and their customers with the first-of-its-kind Smart NeighborhoodTM. In a rapidly changing energy landscape, this initiative will help Southern Company adapt and continue providing clean, safe, reliable, affordable energy to the customers and communities we serve.
Nestled in suburban Birmingham, Alabama, the Smart Neighborhood consists of 62 high-performance homes equipped with smart technologies and powered by a community-scale microgrid, made up of solar panels, battery storage and a natural gas generator. These pieces have been integrated into one initiative which will enable Southern Company to better understand the impact of high-performance construction standards and advanced customer technologies to our core mission.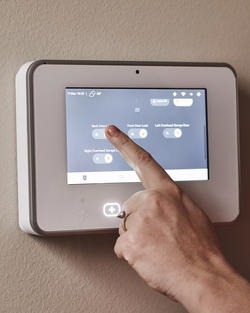 When it comes to developing high-performance homes, there are two main building blocks that need to be considered: 1) the building envelope (or shell) and 2) the equipment inside of it. For the Alabama Power Smart Neighborhood each home features both components.
A home's energy consumption is driven in large part by its outdoor conditions. Is it hot or cold? How extreme? The answers to these questions heavily influence the amount of energy used to keep a home comfortable for its owners.
The easiest and most cost-effective way to keep a home cool in the summer and warm in the winter is to build the envelope of the home well – this means walls with effective insulation and exceptional windows. With a Home Energy Rating System (HERS) score between 40 and 50, these homes represent how typical residential construction may look 20 years from now, and rate about 35 percent more efficient than standard homes being built in the state today.
We used triple-pane windows with 2X6 walls, allowing for 50% more insulation, and improved air sealing. In the attic, we used R-49 blown-in insulation and a radiant barrier to reflect the sun. These envelope advancements make the home act much like a Yeti cooler – keeping the temperature and humidity inside the home easy to control even in the harshest weather conditions.
The second component of a high-performance home is the equipment inside of it – namely the advanced HVAC and water heating equipment. These systems are the two largest consumers of energy in a home and determine in large part how efficiently a home operates. Traditional gas and electric water heaters take a fuel, burn it and dump the heat into the water. Because traditional water heaters burn a fuel to create heat, the maximum efficiency possible is 100%. However, the hybrid heat pump system used in this community moves heat from the air into the water, and because it is just moving heat and not making it, one dollar of energy will provide three dollars and fifty cents of hot water.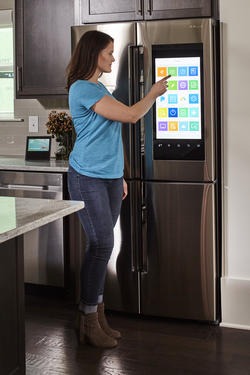 The advanced HVAC system is variable speed and capacity, which means it can operate at the right speed to keep the home comfortable. Typical heat pump systems are either on or off, which is like trying to drive a car down the road when you can only go 0 or 60 MPH. Other efficient items in the home include an energy recovery ventilator, LED lighting and electric vehicle charger.
In addition to the high efficiency construction and advanced equipment, each homeowner can pinpoint how much energy and what time of day each device is using energy through a data monitoring system that has been installed on each home. Homeowners can also remotely control many of the devices inside their homes including lighting, outlets and kitchen appliances, which enables them to be used more efficiently.
Southern Company, Alabama Power and additional project partners are looking forward to continued customer engagement as this two-year research and development project is just beginning to unfold.
In a rapidly changing energy industry, Southern Company recognizes that accelerating technology development is more important than ever. Southern Company Research and Development partners with world-class researchers to help us better meet customers' evolving energy needs and better understand how to make high-performance communities a reality.
Southern Company is working in the buildings-to-grid space because we intend to lead the change and not only meet customers' energy needs today, but also build the future of energy while anticipating tomorrow.
STAY EMPOWERED
TAKE ACTION
Help the Alliance advocate for policies to use energy more efficiently – supporting job creation, reduced emissions, and lower costs. Contact your member of Congress.
JOIN US
Energy efficiency is smart, nonpartisan, and practical. So are we. Our strength comes from an unparalleled group of Alliance Associates working collaboratively under the Alliance umbrella to pave the way for energy efficiency gains.
DONATE
The power of efficiency is in your hands. Supporting the Alliance means supporting a vision for using energy more productively to achieve economic growth, a cleaner environment, and greater energy security, affordability, and reliability.