Energy-Efficient Buildings and Transportation will Drive Cleveland's Effort to Use 100 Percent Renewable Energy by 2050
The City of Cleveland has a long history in transportation and energy. Its strategic location allowed the city to capitalize on the shipping capabilities of the Great Lakes and regional railroad systems to develop into the successful industry town that drew John D. Rockefeller to found Standard Oil Co. there in 1870. Quick growth and poor regulation, however, resulted in air and water pollution; most famously, the Cuyahoga River caught fire multiple times during the 1950s and '60s, helping to spark a national environmental revolution.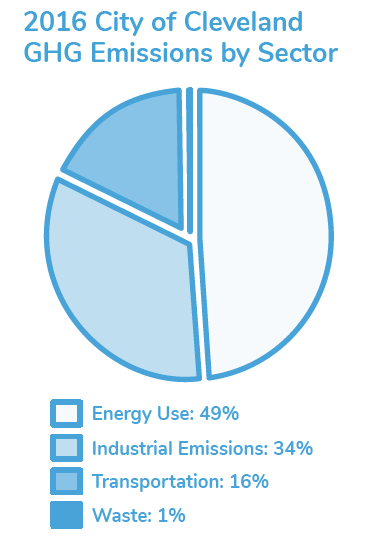 The city's image is different now. For instance, Cleveland's City Council passed a resolution recognizing today as Energy Efficiency Day. And, spurred by President Trump's 2017 announcement that the U.S. would pull out of the Paris Climate Agreement, Cleveland Mayor Frank Jackson released an updated Climate Action Plan last month with a renewed vision for Cleveland. The goal: to power the city with 100 percent renewable energy by 2050. Cleveland is one of 80 U.S. cities to commit to this goal.
The first Cleveland Climate Action Plan, launched in 2013, focused on reducing greenhouse gas emissions. The new report seeks to embolden Cleveland's goals. It was developed by a 90-member Climate Action Advisory Committee; community and business leaders were convened during 12 workshops to listen to the priorities and concerns of city residents which were connected to climate actions. With an emphasis on equity, the plan sets out a vision for a more resilient city with improved quality of life for all residents through five focus areas, including energy efficiency and sustainable transportation.
Energy Efficiency & Green Buildings
Energy-efficient buildings not only contribute to Cleveland's climate goals, but also bring lower utility costs, increased property values, improved health and productivity of occupants, and the creation of local jobs. The city's energy efficiency objectives are focused in four areas: homes, small and mid-size businesses, community hubs, and new construction and major renovations. The overarching goal is to reduce residential and commercial energy use 50 percent and industrial use 30 percent by 2030, as well as to have all commercial and industrial buildings tracking their energy use by 2023.
Since 2013, Cleveland has begun to provide energy efficiency incentives to homeowners, conducted more than 1,000 energy audits saving businesses millions, received LEED certification at 21 educational facilities, and updated its Green Building Standard. In the new plan, Cleveland pledges to:
Develop educational programs for homeowners and contractors on cost-savings from energy-efficient practices;
Expand green building support through incentives and develop energy efficiency policies that promote benchmarking and disclosure programs; and
Identify and connect community hubs like schools and churches with existing resources and programs that support energy efficiency.
Sustainable Transportation
While total greenhouse gas emissions have decreased in recent years, Clevelanders have been driving more, raising emissions from transportation by 16 percent between 2010 and 2016. The city's new broad goal is to reduce total vehicle miles traveled while also reducing emissions from each vehicle.
So far, Cleveland has supported alternative fuel vehicles by installing additional electric vehicle (EV) charging stations, completing an expansion of city bus lines, developing more than 70 miles of bike lanes and paths, and launching a bike share system. The 2018 update pledges Cleveland to:
Develop a city and region-wide strategy to continue expansion of EV charging infrastructure and clean car sharing;
Advocate for increased public transit funding and improve public transit fuel efficiency; and
Continue to maintain and develop bike infrastructure, including expanding bike share options.
Accountability
Cleveland has committed to reporting its progress through several global and national efforts: the Global Covenant of Mayors for Climate and Energy, the Carbon Disclosure Project, Star Communities, and the World Wildlife Fund One Planet Cities program.
Mayor Jackson is confident in his mission to "build a thriving green city on a blue lake," but the city has a long way to go; Cleveland was rated 26th out of 51 large U.S. cities on ACEEE's City Energy Efficiency Scorecard in 2017. The city has now made ambitious plans, though, and if it can deliver on its energy efficiency and sustainable transportation initiatives, it will have much to celebrate.