Energy Efficiency Super Bowl Showdown: Seattle vs. Denver
Why wait for the big game? Let's have an energy efficiency showdown between Seattle and Denver and see which city comes out on top.
Building Codes
Seattle: The Seattle Energy Code follows the 2012 International Energy Conservation Codes (IECC) Standards, regulating the energy-use features of new and remodeled commercial and residential buildings. IECC updates the code every three years, and 2012 is the most recent version for which significant and progressive code amendments were made relating to building envelope, HVAC, lighting and more.
Denver: Denver follows the slightly less stringent 2009 IECC standards, but is recognized for being a leader in building energy efficiency. Earlier this week, Denver's Mayor joined those from 9 other cities in a pledge to dramatically scale up building energy efficiency in partnership with NRDC and the Institute for Market Transformation in the new City Energy Project. The cities expect to save a combined $1 billion per year on energy bills with this commitment!
Advantage: Seattle's implementation of the most recent IECC means its newest buildings are about 15% more efficient, giving a sizeable edge to the Emerald City.
Walkability & Transportation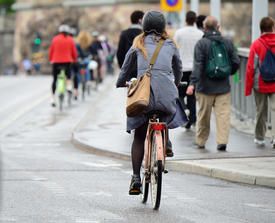 Seattle: Seattle ranked number 8 on Walk Score's most walkable cities in the country and has a well-established public transportation system. 27% of Seattleites commute by walking or taking public transport – well above the national average of 9%.
Denver: With extensive light rail and bus systems, public transportation is also very well-used and well-loved in Denver. The city was ranked the third most bike friendly city in the country, coming in just .8 points behind number one Portland, OR.
Advantage: While Denver ranks highly in bikeability, it doesn't make up for Seattle's significant lead in public transportation.
EV usage/access to chargers/etc.
Seattle: The Western Washington Clean Cities Coalition recently received $15 million in funding to help support an EV charging installation project. This will allow for the installation of 137 additional charging stations in Seattle and surrounding areas.
Denver: The Denver International Airport opened 10 free EV charging stations in November, 2013. These particular stations are classified as Level 1 (using 12-volt lines), which saves more energy than the more common Level 2 chargers (using 240-volt lines).
Advantage: Seattle clearly wins this round.
Utility Energy Efficiency
Seattle: Seattle City Light has been greenhouse gas neutral since 2005 – the first and only utility in the country to achieve such a status. City Light has already met 2020 requirements under Washington's Renewable Portfolio Standard.
ACEEE recently published an energy efficiency scorecard for cities across the US, and in the "Energy & Water Utilities" category, Seattle tied for 3rd at 14.75 points.
Denver: Denver's Xcel Energy is the top wind power utility in the US, and the company is on track to reduce emissions by 30% by 2020 from 2005 levels. Not far behind in the ACEEE Scorecard, Denver came in 4th at 14.75 points..
Advantage: Tough loss for Denver in this category, only losing by .50 in ACEEE's great scorecard (you really should check it out to learn more).
Street Lights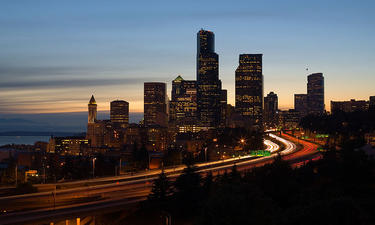 Seattle: Seattle began converting residential streetlights to LEDs in 2011, and expects to have completed all zones of the city by 2014. Before beginning the process, city officials wanted the opinion of residents, and even shut down a major roadway to traffic in order to get feedback.
Denver: The city is participating in an LED pilot program with Philips Roadway and Xcel Energy, but its LED lighting is not as robust as Seattle's.
Advantage: Denver is clearly prioritizing energy efficient lighting, but is just a half-step behind Seattle.
CHAMPION
Ouch Denver! Like the classic Super Bowls of the 80s and early 90s, this one wasn't even close. Still, it was great to see that both cities have committed to being urban leaders in energy efficiency. We applaud both cities, and you can be sure we'll be looking forward to seeing both teams battle it out on the gridiron instead of the energy grid.
Curious about how these two cities match up in other sectors? Check out our Associate Member Opower's Outlier Blog.