Efficiency 101: How Can Families Save Energy at Home?
Let's Save Energy
Alliance to Save Energy's Blog
Efficiency 101: How Can Families Save Energy at Home?
Mahatma Gandhi said, "Be the change you wish to see in the world." While he may not have been thinking about energy efficiency, it certainly applies. One thing many families would like to change is how much money they spend on energy bills. Last month's installment of our Efficiency 101 blog series took a deep dive into the federal efficiency programs that promote efficient appliances, building construction, and vehicle emissions. But investing in energy efficiency isn't just in the hands of the federal government – you and your family can bring positive change to your home as well.
That's what we teach students in the Alliance's EmPowered Schools program. Through our K-12 education program, kids are leading change every day by fighting climate change, lowering energy usage, and saving their families money on utility bills. Each small step adds up, and when a household works together to save energy, they can have a big impact. Here are five simple ways that you and your family can save energy at home – straight from our EmPowered curriculum.
1. Turn off the lights when leaving a room.
The average American home uses 70 light bulbs. Turning off lights when leaving a room is an easy behavior change that costs nothing and saves money.
The EmPowered Schools program coined the phrase Last Out Lights Out to help students and families remember to turn off the lights, but students at Winslow High School in Atco, New Jersey took it one step further by writing a song to spread the message to their friends and families.
2. Replace incandescent bulbs with LED bulbs.
ENERGY STAR-certified LED bulbs use up to 90% less energy than incandescent bulbs. One LED bulb can also save you more than $80 in electricity costs over its lifetime since they last 15-25 times longer than incandescent bulbs. We recommend switching your four most-used lightbulbs to LEDs to get the most bang for your buck.
Two EmPowered Schools student leaders from Richardson Elementary School in St. Paul, Minnesota calculated how much money their families would save by switching to LED light bulbs. "We can save over $100 a year just by switching some of our incandescent light bulbs to LED bulbs," one student said. "I could spend that on a great LEGO set."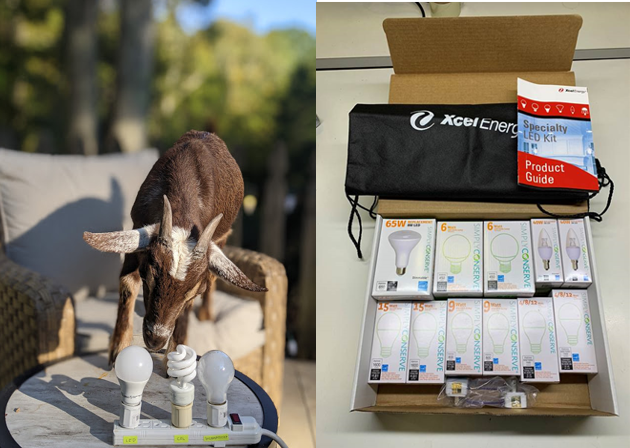 The EmPowered Schools program's honorary staff member, Tom Hanks the goat, helped students learn how to identify the types of light bulbs in their home and calculate the savings of switching to LEDs.
3. Set thermostats to 68° F in the winter and 78° F in the summer.
Heating and cooling a home requires a lot of energy year round. To help conserve energy, the Department of Energy recommends setting thermostats to 68° for heating and 78° for air conditioning. Every degree closer to the ambient temperature setting can save a household up to 3% on their energy bill. In our EmPowered Schools program, students share this information with their families and decide upon temperatures as a household.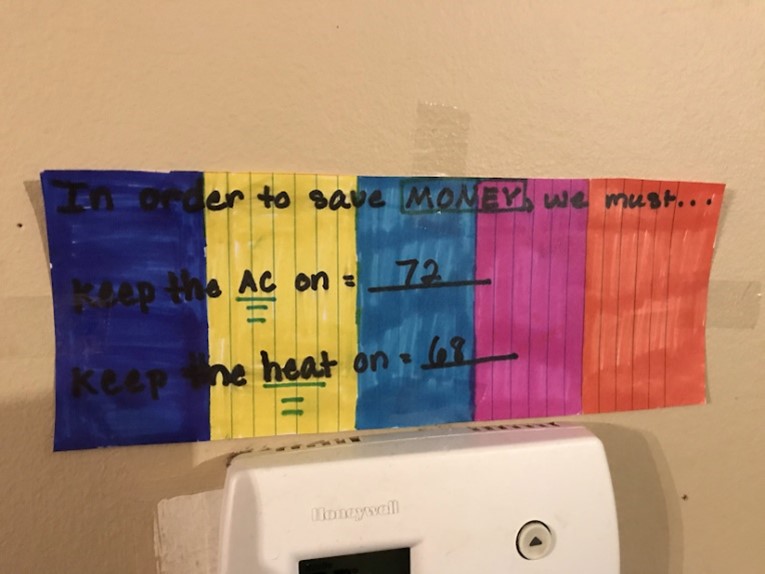 Winslow High School students created an eye-catching reminder that shows one family's compromise on thermostat settings.
4. Unplug appliances when they are not in use.
Some appliances draw electricity even when they are not actively being used. This is called a phantom load. Household examples of items that draw phantom loads include gaming consoles, printers, and cell phone chargers. EmPowered students identify appliances that have phantom loads and encourage their families to save energy by unplugging them when they are not being used.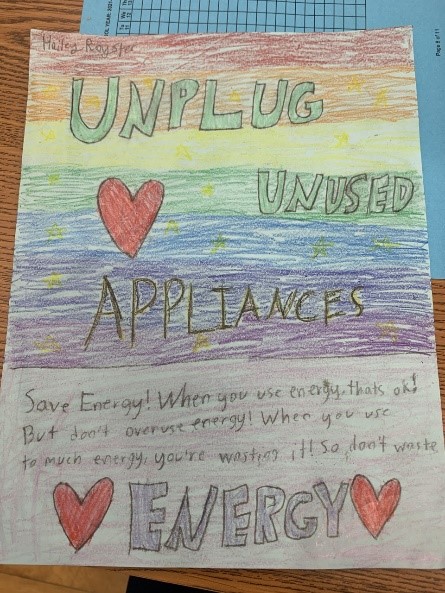 To reinforce positive behavior, students at Deanna Taylor Academy in Hillside, New Jersey created reminders for their classrooms and homes.
5. Use less hot water.
Water heaters are big energy users that are often overlooked. EmPowered students realize that saving hot water translates to saving energy on heating and cleaning water and encourage their families to make easy behavior changes such as turning off the water while scrubbing hands and taking shorter showers. If every member of the household works to conserve hot water, both the energy and water savings will be felt through lowered utility bills.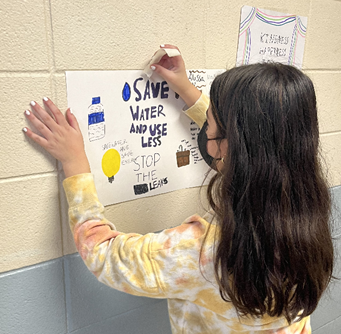 Students at Aldrich Elementary School in Howell, New Jersey created posters as part of their campaign to save water and energy.
Changing the world starts at home. Taking small steps to reduce your home energy consumption can help minimize your family's energy bills and fight climate change. And as you've seen, saving energy at home is so easy, a kid can do it!
To learn more about our EmPowered Schools program, join our virtual Lunch & Learn event on April 20. For more energy efficiency basics, read our first installment of Efficiency 101 to learn about the history of energy efficiency.
STAY EMPOWERED
TAKE ACTION
Help the Alliance advocate for policies to use energy more efficiently – supporting job creation, reduced emissions, and lower costs. Contact your member of Congress.
JOIN US
Energy efficiency is smart, nonpartisan, and practical. So are we. Our strength comes from an unparalleled group of Alliance Associates working collaboratively under the Alliance umbrella to pave the way for energy efficiency gains.
DONATE
The power of efficiency is in your hands. Supporting the Alliance means supporting a vision for using energy more productively to achieve economic growth, a cleaner environment, and greater energy security, affordability, and reliability.