EE Global 2015 to Bring Together Top International Efficiency Leaders
The 8th Annual Energy Efficiency Global Forum (EE Global) is less than two weeks away, when nearly 500 energy influencers will come to D.C. to discuss and develop "best practices" policies and strategies for global implementation of energy efficiency. Registration numbers are quickly increasing, and it's clear that this year will be yet another elite gathering of high-level energy experts!
Energy efficiency brings together leaders from all sectors and regions, as evidenced by the diverse organizations that have agreed to participate, sponsor and endorse EE Global 2015. The event's 86 (and counting) thought leaders represent 23 countries and will discuss how energy efficiency can be advanced through government leadership, market transformation, the built environment and investing & financing.
The Forum's 16 Executive Dialogue sessions will address the pressing energy efficiency issues facing our energy environment, economy and future. Thought leaders will answer important questions such as how to strengthen global economies through energy efficiency policy, ways to increase collaboration between the EE and finance communities to ensure efficiency's role as a major player in the global energy transition, the meaning of marketing transformation for energy efficient products, necessary steps to creating whole building efficiency and more.
The agenda also features three Plenary Sessions, which will bring together leaders for a roundtable discussion of advancements in the global energy-efficiency movement. The Plenary Sessions will address how the current utility model will need to adapt in the changing energy landscape in order to advance energy efficiency's role in the utility market and the nexus between doubling energy productivity and meeting regional and national climate goals. Finally, our Plenary Awards Luncheon will celebrate and showcase the "best of the best" in energy efficiency by honoring global product manufacturers from the Americas, Asia and Europe — whose innovative technologies are transforming the marketplace and who have made energy efficiency a priority within their operations.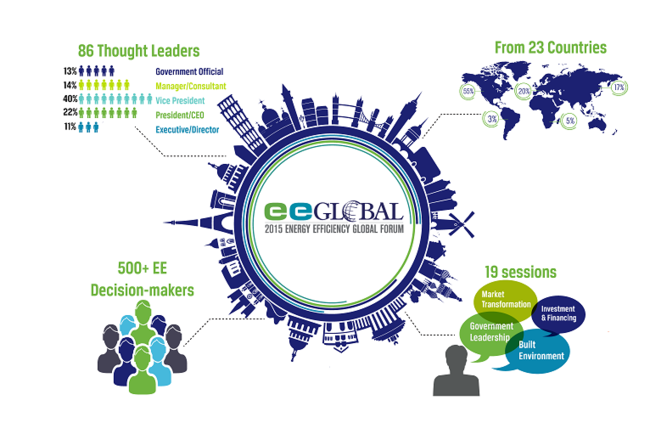 This year's EE Global is the most diverse yet, with attendees and supporters from over 23 countries (and counting), with representatives from government, non-governmental organizations, academia and industry. Numerous sponsors continue to support EE Global year after year. We are thankful to have the U.S. Department of Energy, Whirlpool, Philips, The Dow Chemical Company and many more supporting the event. We have also counted on the support of 27 Endorsing Organizations from 10 regions of the world representing a wide array of industries. These include the American Chemistry Council, Environmental and Energy Study Institute, National Restaurant Association, World Resources Institute and others. Sponsors and Endorsing Organizations may represent a broad spectrum of stakeholders ranging from utility companies to non-profit groups, but their commitment is the same — to support energy efficiency in the midst of a changing energy landscape.
EE Global 2015 is shaping up to be great event, so if you haven't already made your plan to do so, join us in the global energy efficiency movement this May 12-13 in Washington, D.C.! To see more of this year's impressive agenda and roster of speakers, please visit the 2015 Energy Efficiency Global Forum website.