Certified Lighting Designer (CLD): People Produce Buildings—Let's Ensure People Have Skills!
Photo: Venture Capital Office Building │Menlo Park, CA USA │Lighting Design by Sean O'Connor Lighting Inc │Photography © Eric Staudenmaie
This guest blog post was written by John Martin, Public Policy Consultant at the International Association of Lighting Designers (IALD).
Under the leadership of the International Association of Lighting Designers (IALD), lighting professionals from around the world collaborated to develop the Certified Lighting Designer (CLD) credential, a global competency-based professional designation, which was introduced in 2015. The CLD was developed by a task force that included lighting designers and architects from around the world. The CLD designates individuals who are skilled in all aspects of lighting design, and serves as a mark of professional capability. An independent global commission has assumed management of the CLD on an ongoing basis.
Professional architectural lighting designers can earn the CLD designation by demonstrating their proficiency levels in seven "Domains of Practice". The practice domains constitute a set of universal standards for the practice of lighting design. They are:
• Goals and Outcomes – Create a lighting concept that satisfies project requirements and design intent so the solution performs as predicted.
• Collaboration – Interact with other disciplines by serving as an integral member of a design team.
• Ingenuity – Contribute ideas that demonstrate innovation, creativity, originality, imagination, or resourcefulness to foster the goals of a project.
• Synthesis – Integrate technical and aesthetic elements of lighting with space and form.
• Science – Apply principles of light to meet project-relevant technical criteria.
• Stewardship – Insure that lighting responds to known and potential environmental impacts (including energy efficiency).
• Human Experience – Design lighting solutions that positively affect people [1].
Extensive testing and validation efforts proved the reliability and validity of the CLD before its public release. Moreover, the credential was developed according to established and approved best practices (ANSI and ISO 17024), so that consumer of lighting design services may rely on its validity.
Energy efficiency is an integral part of CLD qualification. CLD practitioners are more likely to meet energy-use targets than other types of practitioners, while also maintaining quality, architectural value and meeting human needs. In lighting, this balance can be expressed as an optimum point maximizing important considerations in all three areas as illustrated in the figure below: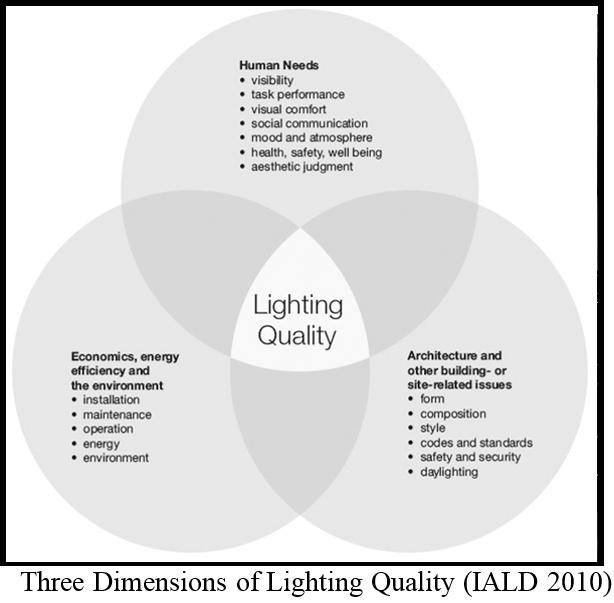 How can we be so sure? Simple: we know that CLD holders know what they are doing, and superior knowledge is associated with superior performance (Mellinger and Samla, 2013).[2]
In many ways, existing energy codes in the U.S. represent an ongoing effort to provide a bulwark against poor performance on the part of the humans involved in designing and constructing buildings. U.S. energy codes prescribe minimums only; the result is the frequent construction of buildings that do not perform as expected.
At present, we generally define a complex set of rules (prescriptive or performance paths), expect individuals (designers) to utilize those rules, and ask different individuals (plan checkers and inspectors) to determine whether the rules have been followed. Still another set of individuals (construction team) must turn the plans into the actual building. Finally, a fourth set of individuals (commissioning agents and building operators) must attempt to calibrate and maintain complex systems to make them work as expected. The training, certifications and skill levels of all the individuals involved are often not matched to the requirements of ever-changing codes. The result is uncertainty about compliance rates and continuing efforts to improve training and skills of designers, code officials and builders.
As an alternative, individuals' overall competence can be certified through a well-designed credentialing system at lower overall economic cost while also taking qualitative aspects of each profession into account. CLDs have demonstrated that they will meet the four "rights" of efficient and excellent lighting: put the right amount of light in the right place at the right time, using the right equipment.
Among professions concerned with the built environment, competency-based certifications are becoming increasingly common. At the commissioning and operating end of the building process, the CCP (Certified Commissioning Professional) designation created by the Building Commissioning Association and the CFM (Certified Facility Manager) credential created by IFMA (International Facility Management Association) are prime examples. Site-level professions including project managers (CPM designation) and most construction trades include competency-based designations of proficiency. In recent years, such sub-specialties as lighting controls installation have also been advanced and made more reliable through competency-based certifications, such as the California Advanced Lighting Controls Training Program (CALCTP). In the design arena, the experience requirements of most licensed professions (e.g., architecture, engineering) ensure some degree of performance proficiency.
The CLD exemplifies several trends in credentialing: it is evidence-based, global, was developed by practitioners and includes a set of broad competencies related to the practice of the profession. "Evidence-based" means that no particular training or academic curriculum is required to earn the credential; it is based on actual professional achievement. "Global" means that the CLD will be recognized across national boundaries, important in an almost borderless profession. "Practitioner-developed" means that the CLD includes the highest standard of current practice in the profession. The set of broad competencies included in the CLD helps ensure that practitioners have demonstrated that they are able to apply knowledge and see projects through to completion.
[1] CLD Candidate Handbook, 2015
[2] Mellinger, Dan and Samla, Connie; "Maximizing ROI Through Good Design," Lighting Design and Application, IES, April 2013, pp 98-102.