Biden Order Will Boost Federal Efficiency and Create Jobs
Let's Save Energy
Alliance to Save Energy's Blog
Biden Order Will Boost Federal Efficiency and Create Jobs
President Joe Biden's most recent administrative action should come with a spoiler alert because the plot is given away in the title. The Executive Order on Catalyzing Clean Energy Industries and Jobs Through Federal Sustainability, signed Dec. 8, directs federal agencies to lead by example, using their unparalleled purchasing power to spur additional growth in the clean energy sector by leveraging the economic engine of energy efficiency for its buildings and vehicle fleets.
The action builds on administration ambitions we analyzed back in May, but zeroes in on a suite of five goals to be achieved through a "whole-of-government" approach. According to the White House, the federal government will target:
1. 100% carbon-emissions free electricity by 2030. The power sector was responsible for a quarter of all U.S. greenhouse gas emissions in 2019. Within a decade, agencies are directed to procure emissions-free electrons to cover all operational consumption on a net annual basis – half of which is required to be generated when it is needed in the same regional grid where it is used.
2. 100% zero-emission vehicle acquisitions by 2035. Biden's order builds on federal vehicle requirements spelled out by the Obama Administration, but simplifies the targets by requiring the entire federal fleet to be carbon-free as soon as 2027 for light-duty cars and trucks.
3. Net-zero emissions from federal procurement no later than 2050. The order implements a "Buy Clean policy" to not only increase the market penetration of clean technologies like high-performance appliances and equipment, but also to reduce the level of traditional pollutants, harmful chemicals, and carbon emissions across supply chains. That includes the hard-to-decarbonize industrial sector where carbon, steel, and aluminum account for significant embodied emissions that only become more critical to eliminate as buildings near zero-energy consumption. Federal investment represents a vital opportunity to identify new processes and materials at scale.
4. A net-zero emissions building portfolio by 2045, including a 50% reduction by 2032. As noted, the federal government is the nation's largest landowner, which requires a $6 billion utility bill to power its 300,000 buildings alone. Energy and water efficiency initiatives stand to save taxpayers millions. While there are already performance requirements for newly-constructed federal buildings, well-designed building performance standards can affordably achieve net-zero energy and emissions from existing buildings.
5. Net-zero emissions from overall federal operations by 2050, including a 65% reduction by 2030. Despite all the ink spilled here discussing the energy and climate opportunity within buildings, the vast majority of energy consumption at the federal level is at the Department of Defense, which contributes 56% of overall federal emissions. By including DOD in this emission reduction target, an enormous amount of energy and carbon emissions can be saved.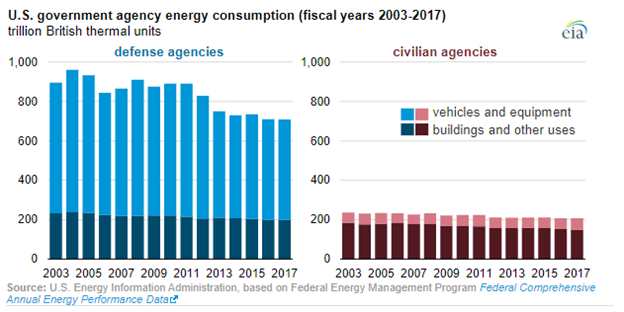 (Source: EIA)
Why it matters.
With more than 300,000 facilities in the federal building portfolio ranging from sea to shining sea, and an overall fleet of 600,000 vehicles, the U.S. government can demonstrate that clean energy innovations are not only cost effective, but cost competitive, with traditional technologies.
Additionally, the scale of procurement means that technologies can be tested across varying climate and environmental challenges. Do electric vehicles hold the capacity to aid the local grid in times of stress, like we suggest? The Department of Energy can prove it to be so in a lab or through modeling, but the U.S. Postal Service can prove it in practice at a local post office. Does demand flexibility aid a grid operator to avoid or withstand a prolonged power outage in an extreme weather event? Let's get the General Services Administration to demonstrate that it should be among the first solutions with grid-integrated buildings.
(Source: FEMP)
Conclusion
Leadership matters. When it comes to shepherding taxpayer investments, not only do the projects boosted by federal funding need to make an impact and achieve desired outcomes – in this case, by reducing carbon emissions – but it's also critical to maximize secondary benefits. That's why this commitment to energy efficiency in buildings and vehicles is so vital. Energy efficiency is the tip of the spear when it comes to job creation, leading the clean energy sector with more than 2 million jobs – moreover, it reduces household and business energy costs, improves grid reliability and resilience, and makes for healthier air and buildings. That is an example worth setting.
STAY EMPOWERED
TAKE ACTION
Help the Alliance advocate for policies to use energy more efficiently – supporting job creation, reduced emissions, and lower costs. Contact your member of Congress.
JOIN US
Energy efficiency is smart, nonpartisan, and practical. So are we. Our strength comes from an unparalleled group of Alliance Associates working collaboratively under the Alliance umbrella to pave the way for energy efficiency gains.
DONATE
The power of efficiency is in your hands. Supporting the Alliance means supporting a vision for using energy more productively to achieve economic growth, a cleaner environment, and greater energy security, affordability, and reliability.