White House Executive Order Leaves Questions About Continued Federal Leadership on Building Efficiency
Let's Save Energy
Alliance to Save Energy's Blog
White House Executive Order Leaves Questions About Continued Federal Leadership on Building Efficiency
"We're going to run government smoothly, efficiently, and on behalf of the very hardworking taxpayers."
That was President Trump's statement as the White House recently repealed a 2015 Obama executive order on federal sustainability and issued a new order on Efficient Federal Operations. We were certainly pleased to see the administration maintain an emphasis on energy efficiency, which has a proven track record of saving billions of taxpayer dollars through energy savings. But the new order is not only short on details, it also rescinds strong climate and energy targets from the previous order, leaving its real impact in question.
A lot is at risk, and the Trump administration has a tremendous opportunity to continue U.S. leadership in the efficiency sector. The new policy, Executive Order 13834, calls for each agency to "prioritize actions that reduce waste, cut costs, enhance the resilience of Federal infrastructure and operations, and enable more effective accomplishment of its mission." It also calls for agencies to use performance contracting – a mechanism by which they can leverage energy cost savings from improved efficiency to pay for retrofits. The administration noted, correctly, that the federal government is the largest energy consumer in the nation and that U.S. taxpayers spend $6 billion a year on energy for buildings alone.
What's absent so far is a clear plan. The new order replaces an Obama order that included firm efficiency performance targets. The Obama order called on each agency to reduce its building energy intensity by 2.5 percent annually. By setting targets and emphasizing outcomes, the Obama policy was working. In 2016 – the first full year of enactment – federal facilities cut their energy intensity by 5.3 percent, more than doubling the goal for 2.5 percent annual reductions. If you're keeping score, 5.3 percent of $6 billion is about $320 million in savings for 2016 alone, with the savings compounding annually.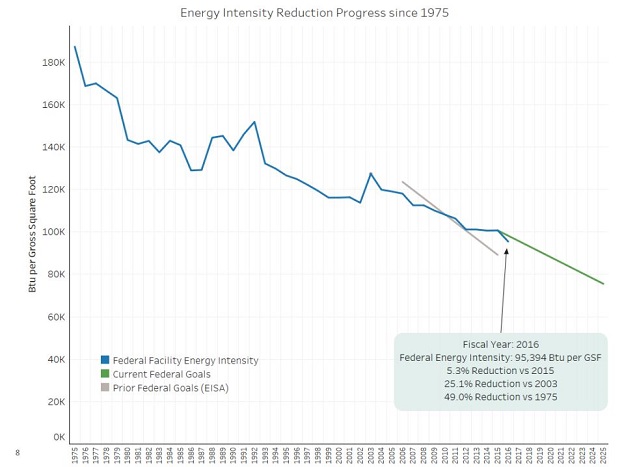 Source: U.S. DOE
President Trump's new order includes no such targets or goals. Instead it calls on various agency heads to develop new guidance and metrics over the next 90 to 150 days. The test of the new policy will come in that new guidance, and only then will we know if the new White House policy will continue the progress we've made in reducing federal energy intensity by nearly 50 percent since 1975.
It's not just buildings, by the way. According to DOE, buildings account for less than 40 percent of federal energy use. Sixty percent is used to power vehicles, ships, planes and other equipment. With more than 300,000 facilities and 600,000 road vehicles, the federal government has enormous room for energy savings. Not only will this save money and reduce emissions, but it will show the way for local and state governments and the private sector. This is something everyone should support – creating a leaner, more productive economy with lower government spending across the board and stimulating American innovation in energy efficiency technologies.
That's not to mention that every time we retrofit a building or manufacture insulation or other high-efficiency components, we're creating jobs and economic activity. Already energy efficiency supports 2.25 million American jobs, among the highest totals in the entire energy sector. Three in every four of those jobs are in construction or manufacturing.
This is common-sense stuff. We should keep it up, and the administration's pending guidance should ensure the federal government continues to lead by example and fully utilize energy efficiency technologies and solutions to save taxpayers money. It should mark the beginning, not the end, of the administration's agenda for energy efficiency in federal buildings.
STAY EMPOWERED
TAKE ACTION
Help the Alliance advocate for policies to use energy more efficiently – supporting job creation, reduced emissions, and lower costs. Contact your member of Congress.
JOIN US
Energy efficiency is smart, nonpartisan, and practical. So are we. Our strength comes from an unparalleled group of Alliance Associates working collaboratively under the Alliance umbrella to pave the way for energy efficiency gains.
DONATE
The power of efficiency is in your hands. Supporting the Alliance means supporting a vision for using energy more productively to achieve economic growth, a cleaner environment, and greater energy security, affordability, and reliability.