adidas Group Creates GreenFUND To Finance Energy Efficiency Projects
Let's Save Energy
Alliance to Save Energy's Blog
adidas Group Creates GreenFUND To Finance Energy Efficiency Projects
This guest blog post was written by Monica Kanojia, Consultant, Department of Energy.
Many major corporations are progressing toward incorporating energy efficiency into their corporate visions as a means to achieving their triple bottom line, a framework that measures social, environmental and financial performance as part of the overall company evaluation. Along the way, many face hurdles in internal financing for energy efficiency and renewable energy projects due to time, budget and expertise constraints.
Through the Department of Energy's Better Buildings Initiative, the Retail Industry Leaders Association (RILA) partnered with adidas Group to create an implementation model detailing how the multinational sports and clothing manufacturer has taken on the challenge of financing energy efficiency projects.
With over 2,700 retail locations and 22 million square feet of corporate office space, adidas has a sizable building portfolio, and they wanted to find creative solutions to reduce their energy consumption, show their commitment to the environment and maintain productivity levels. As a result, the company developed the greenEnergy Fund in 2012. The Fund serves as an internal venture capital fund that identifies energy efficiency investment opportunities in leased and owned stores, assists in managing project risk and monitors and verifies project savings. The provision of funding, technical guidance and project management has facilitated increased investment in energy efficiency and renewable energy projects while delivering a net profit for adidas.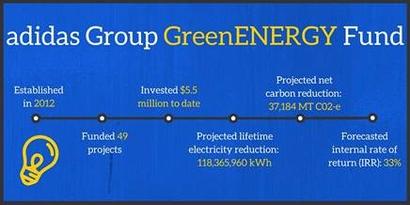 Doug Noonan, Vice President of Corporate Real Estate at adidas Group said, "The greenEnergy Fund has nicely accelerated the pace of investments in energy efficiency in our owned operations. It has also helped to normalize this idea that energy efficiency investments can be great business investments."
Too often company finance experts see opportunities to increase energy efficiency and decrease consumption as expenditures that cannot be easily recouped. The greenFund takes a unique approach to address this common misconception – first, it frames energy efficiency projects as investments and implements a rate of return higher than that of its core business. Second, the Fund uses a flexible portfolio approach enabling long-term energy projects to be grouped together with those that result in quick returns. By assigning target returns and enabling teams to bundle projects, adidas essentially pools its risk and return across all investments.
adidas developed the greenFund with four goals in mind: creating business value, accelerating carbon reductions capture, verifying energy and financial savings, and tracking and sharing best practices across its global portfolio. Between June 2012 and November 2015, the Fund invested $5.5 million across 49 projects, with projects ranging from LED lighting retrofits to upgrades in HVAC units. A corporate energy team specific to the Fund audits facilities and shares best practices in order to continue to accelerate investments, while also evaluating projects on both the expected savings and carbon impacts. The greenFund represents a replicable approach for corporations looking to address internal hurdles to investing in energy efficiency projects while still maintaining net profits.
Monica Kanojia, Communications Team Lead, provides support for the U.S. Department of Energy's Commercial Buildings Integration (CBI) Program within the Building Technologies Office. In her role as the communications lead for CBI, Monica is responsible for the development and implementation of communications strategy, as well as internal and external propagation of programmatic products and initiatives. Additionally, she advises on design and build-out of technology-to-market campaigns, collaborates with CBI's awardees on defining market amplification strategies, and guides website design for CBI's initiatives.
STAY EMPOWERED
TAKE ACTION
Help the Alliance advocate for policies to use energy more efficiently – supporting job creation, reduced emissions, and lower costs. Contact your member of Congress.
JOIN US
Energy efficiency is smart, nonpartisan, and practical. So are we. Our strength comes from an unparalleled group of Alliance Associates working collaboratively under the Alliance umbrella to pave the way for energy efficiency gains.
DONATE
The power of efficiency is in your hands. Supporting the Alliance means supporting a vision for using energy more productively to achieve economic growth, a cleaner environment, and greater energy security, affordability, and reliability.