New Report Proves We Can't Rely on COVID to Cut Emissions for Us
Let's Save Energy
Alliance to Save Energy's Blog
New Report Proves We Can't Rely on COVID to Cut Emissions for Us
This week, Americans heard an update on the State of the Union with President Biden's Tuesday address to Congress. But we also gained perspective on the state of the clean energy transition in the form of the 2022 Sustainable Energy in America Factbook, published Thursday by the Business Council for Sustainable Energy and BloombergNEF.
The factbook provides an abundance of data on trends in the U.S. energy sector and a glimpse at where progress stands following the shockwaves of the COVID-19 pandemic. One big takeaway? The pandemic will not, on its own, mark the turning point toward meeting our clean energy goals. Only proactive programs and investment can place us on a sustainable trajectory. Let's look at what that means.
ENERGY CONSUMPTION AND EMISSIONS REBOUNDED
Last year's factbook found that U.S. energy consumption dropped by 7.8% in 2020, the largest year-on-year decline since tracking began as many businesses shut down due to COVID-19. Emission levels also declined by 9.2%, putting the U.S. on track to meet its Paris Agreement goal of reducing emissions 26-28% by 2025. However, as we wrote upon the 2021 factbook's release, "we're holding the applause," because the declines were "more a result of economic hardship than efficiency improvements."
That theory proved true this year as the economy began to recover: U.S. energy consumption rose by 4.3% in 2021. While this is still about 3% less than overall energy use in 2019 (pre-pandemic), it was enough to contribute to a rebound in emissions and to help knock the U.S. back off track from Paris Agreement targets.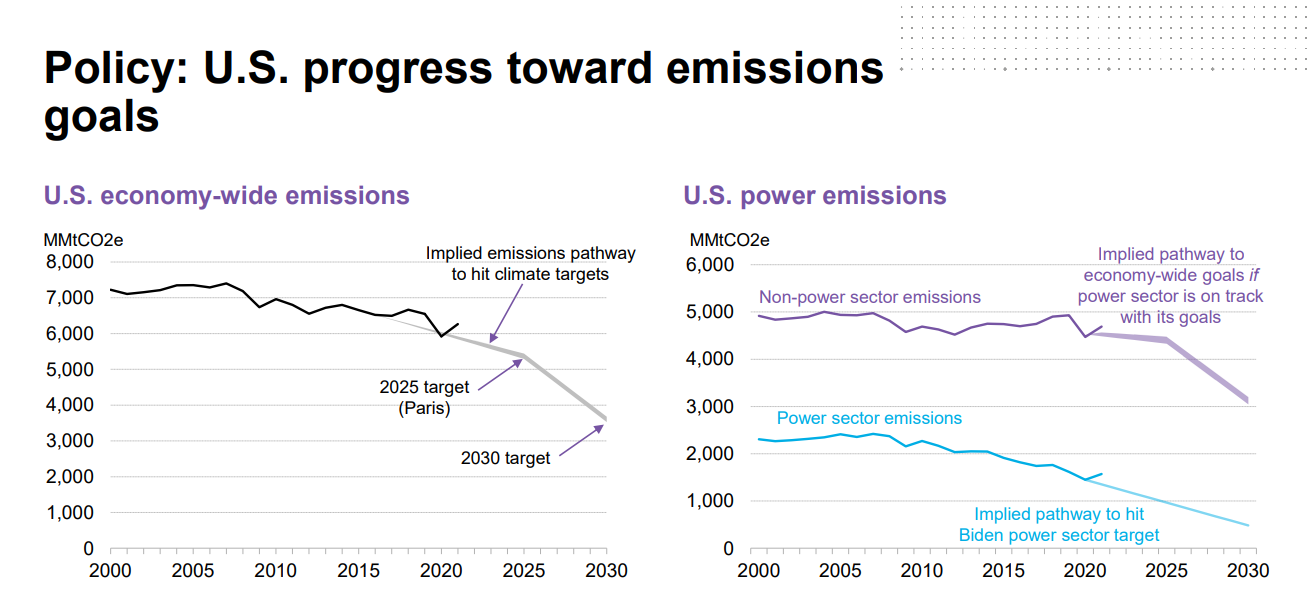 Source: Sustainable Energy in America 2022 Factbook.
However, despite the rise in energy consumption, energy productivity improved by 1.3% in 2021, meaning that the economy grew faster than energy use. This continues the decades-long trend of decoupling GDP growth from energy consumption, largely thanks to energy efficiency improvements in our buildings, vehicles, and industries. Ten years ago, the Alliance's National Commission on Energy Efficiency Policy established the ambitious goal of doubling U.S. energy productivity by 2030, and the factbook shows that this goal is within sight: over the past decade, energy productivity has improved by 16.1%. However, the rate of improvement still must substantially increase over the coming years through purposeful investments in energy efficiency.
GOOD FOR THE ECONOMY, GOOD FOR THE ENVIRONMENT
The pandemic was an example of "doing less with less" – there was less economic activity, which corresponded to less energy consumption. That's clearly not a sustainable path forward: at a time when many people are reeling from COVID's lasting economic impacts and energy prices are on the rise, we need to be focused on ways to create more economic opportunities, more affordable energy costs, and more jobs – while still using less. Energy efficiency is that solution.
By placing energy efficiency at the core of our nation's energy policy, we guarantee that emission reductions are directly tied to savings for families and businesses, because emissions saved through efficiency equate to dollars saved through efficiency. Just one example: reforming federal tax incentives for energy efficiency upgrades (as has been proposed this Congress) has the potential to avoid 340 million metric tons of carbon emissions, save $53.3 billion in energy costs, and create a whopping 567,000 jobs. That's a win, win, win.
Between today's economic, energy security, and environmental challenges, we're facing one of the most defining moments for our energy system in decades. While the 2022 factbook shows that we are moving forward, we are still not moving fast enough, and it's up to us to rise to the challenge and invest in the most efficient solutions. We simply can't expect a robust economy and healthy environment to happen on its own.
STAY EMPOWERED
TAKE ACTION
Help the Alliance advocate for policies to use energy more efficiently – supporting job creation, reduced emissions, and lower costs. Contact your member of Congress.
JOIN US
Energy efficiency is smart, nonpartisan, and practical. So are we. Our strength comes from an unparalleled group of Alliance Associates working collaboratively under the Alliance umbrella to pave the way for energy efficiency gains.
DONATE
The power of efficiency is in your hands. Supporting the Alliance means supporting a vision for using energy more productively to achieve economic growth, a cleaner environment, and greater energy security, affordability, and reliability.