Something Else to be Thankful For: Energy Efficiency
Let's Save Energy
Alliance to Save Energy's Blog
Something Else to be Thankful For: Energy Efficiency
Thanksgiving is the perfect trifecta of family, friends, and food—making it one of my favorite celebrations. But Thanksgiving tops my unofficial "best holiday" list for another, less known and less celebrated, reason.
So what's that other reason? We consume less energy!
According to Opower, energy use is significantly lower on Thanksgiving compared to a typical Sunday in November. This seems surprising given all of the travelling and cooking that occurs, but a closer examination shows there's a fairly simple explanation for the Thanksgiving energy anomaly.
Since family and friends spend most of the day together, it means many homes are completely powered down. This offsets the football watching, cooking, and cozying up that happens at the home of the host. The impact is impressive, by using 5–10% less energy on Thanksgiving, Americans save the equivalent caloric energy of 26 million roasted turkeys.
That's a lot of turkey, but there's always more you can do to ensure your Thanksgiving is as energy efficient as possible.
Energy-Saving Turkey Day Tips
Traveling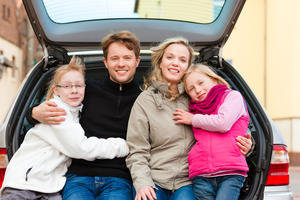 Not counting forced conversation with crazy relatives, travelling is probably the most dreaded part of the holiday. Choose more energy efficient options and you'll ease that travel pain knowing that you're saving energy. When feasible, choose ground transportation like a car, bus, or train over air travel which has the biggest climate impact per distance traveled.
Driving alone in a car can create as large of a footprint as flying, so travel in groups as much as possible (even better if you have a hybrid or EV!). Also remember to check your tire pressure and change your oil and filter for better fuel economy.
Cooking
Unknown to even the most skilled cooks, baking, boiling, and frying provide great opportunities to save energy and money.
Resist the urge to open the oven door to check (and smell) your dish. If your curiosity gets the better of you just switch on the oven light. Also, use glass or ceramic pans because they heat more quickly, the temperature can be set 25 degrees lower for the same amount of cooking time.
When possible, choose a host who has a gas stove. They cost half as much as electric versions to operate. If you have a gas stove, use a moderate (blue-colored) flame setting for maximum energy savings. Also, cook multiple dishes at once whenever possible.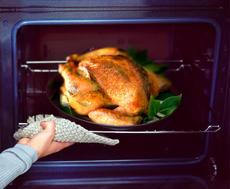 Most importantly, regardless of stove type be sure to match your pan to the burner size—40% of your stove's energy is lost if you use a six-inch pan on an eight-inch burner.
Although especially useful during the holiday season, these travel and cooking tips can be put to good use at any time to save you money (and when's a better time to save than during the holiday shopping season?). Need another excuse to throw a party?
In the name of energy efficiency, it's a great reason any time of year.
Happy Thanksgiving!
STAY EMPOWERED
TAKE ACTION
Help the Alliance advocate for policies to use energy more efficiently – supporting job creation, reduced emissions, and lower costs. Contact your member of Congress.
JOIN US
Energy efficiency is smart, nonpartisan, and practical. So are we. Our strength comes from an unparalleled group of Alliance Associates working collaboratively under the Alliance umbrella to pave the way for energy efficiency gains.
DONATE
The power of efficiency is in your hands. Supporting the Alliance means supporting a vision for using energy more productively to achieve economic growth, a cleaner environment, and greater energy security, affordability, and reliability.