Students Connect Lighting and Health in this Atlantic City School
Did you know that the quality of lighting in a room can affect how well you learn? The PowerSave Schools Team at Pennsylvania Avenue School in Atlantic City, NJ are learning (and teaching their peers) about right-lighting in their classrooms and why it is so important for productivity and well-being.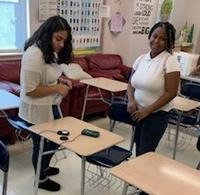 PowerSave students are visiting classrooms to explain the optimal light levels for different types of rooms and activities, according to the Illuminating Engineering Society. They then use light meters to measure the current light levels of the room and make recommendations for how to create the best light level for learning in each room.
The Pennsylvania Avenue School PSS Team are also researching positive and negative side-effects to lighting. They are exploring how lighting affects reading, thinking and the ability to comprehend information; reduces or increases tiredness and blood pressure; and can affect mood and even the frequency and severity of headaches. These students are lighting the way to a healthier learning enviornment!