New Jersey Natural Gas PowerSave Schools Celebrate Energy Efficiency Awareness Month
New Jersey Natural Gas PowerSave Schools spent the month of October spreading the word about Energy Efficiency Awareness Month. From Energy Hog Assemblies to energy-saving campaigns, PowerSave students were loud and proud about making efficiency a priority in their schools.
Osbornville Elementary School in Brick, NJ set up an information table at their Back to School Night to inform parents about their PowerSave mission. Their PowerSave Team shared tips on how to save energy at home, showed a video about what they are doing within their school to save energy, and guided parents to programs and incentives than can help lower their energy bills.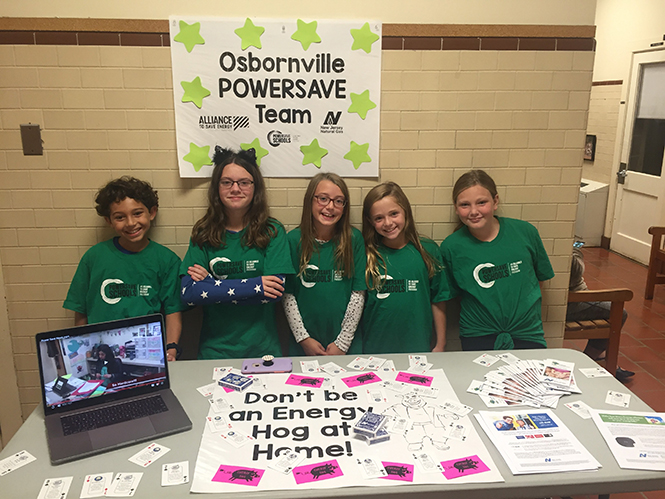 Warren Wolf Elementary School, also in Brick, kicked off Energy Efficiency Awareness Month with a visit from the Energy Hog! The team enjoyed the hog but, with the help of Pre-K to 3rd graders, kindly and firmly asked him to go away. The Hog is gone for now, but you can still here the chanting throughout the halls. Teachers and students are working together to make energy-efficient kid spaces throughout the school while Pre-K and Kindergarten students have added a new classroom job of "Light-Keepers" to be sure that lights are turned off when the classes leave the room.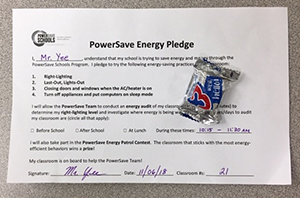 Memorial Elementary School in Howell, NJ made a short video highlighting their energy-saving "super powers". Teachers and students work together to maintain appropriate temperatures within the school, to turn lights out when they are not in use, and to power-down laptops at the end of the school day. Watch this video to see their story.
Brielle Elementary School held a staff meeting to inform teachers and administration of their efforts to make energy-saving behavior a part of the school culture. They distributed a PowerSave Energy Pledge to give all classrooms the opportunity to participate and to compete to see who can best uphold their energy-saving behaviors.
KUDOS to these outstanding schools for spreading Energy Efficiency Awareness in such inventive ways!