2009 Alliance Annual Report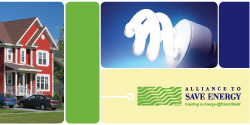 2009 Alliance Annual Report
It was over 30 years ago that the Alliance to Save Energy embarked on a mission to advance energy efficiency worldwide. And though the world has changed much since that time, today's energy crisis is borne of the same causes that compelled our founders to act at the peak of the 1976 OPEC oil embargo: energy waste and overconsumption in the most energy-intensive economy in the world.
Likewise, our mission — though tuned to today's circumstances — remains on course as we focus on saving energy in schools, buildings, manufacturing plants, communities and homes across six continents, through programs that keep energy efficiency relevant for a variety of audiences.
We make energy efficiency a lesson for students, and a service for consumers, a blueprint for builders, an operational strategy for industries, a model for businesses and a tool for policymakers.
Over the years, we've succeeded in expanding our reach to a wide audience of business, industry and policy leaders as well as homeowners, builders and educators – all eager to join us in this march to a clean energy economy.
Our 2009 Accomplishments
In 2009, we welcomed over 30 new members to our Associates Program, bringing the number to 164 at the time of writing.
We scored broad support to develop the Clean and Efficient Energy Program — a groundbreaking new program for utilities — while also expanding our existing coalitions and creating new ones to further advance energy efficiency in the built environment.
Also in 2009, we teamed up with new school districts in California, Washington, D.C., New York and Tennessee to advance energy efficiency in their schools and campuses.
We collaborated with other international organizations to export energy and water efficiency strategies abroad.
We rallied a group of diverse partners to further expand a first-of-its-kind fuel efficiency campaign called the Drive $marter Challenge, which launched an extremely successful video contest in 2009.
And we hosted our first major conference abroad, the 2009 Energy Efficiency Global Forum & Exposition, in Paris, France.
Our efforts to elevate energy efficiency to center stage in the federal climate and energy debate continued in 2009. And the forecast looks promising: with the arrival of the new Congress and Administration in early 2009 came a wave of energy efficiency allies who have since shown tremendous interest in our organization. With their support, we will continue to advise government leaders as they craft our country's climate and energy legislation.
As we get busier each year, our staff continues to grow: since 2002, we've added 22 new staff members, making us "71 strong" at the close of 2009.
Looking Forward
Thirty-two years from now we will no doubt be facing a different set of energy challenges linked to consumption. Whatever the context, energy efficiency will offer solutions. And the Alliance will answer the call. Here's to an energy-efficient future
STAY EMPOWERED
TAKE ACTION
Help the Alliance advocate for policies to use energy more efficiently – supporting job creation, reduced emissions, and lower costs. Contact your member of Congress.
JOIN US
Energy efficiency is smart, nonpartisan, and practical. So are we. Our strength comes from an unparalleled group of Alliance Associates working collaboratively under the Alliance umbrella to pave the way for energy efficiency gains.
DONATE
The power of efficiency is in your hands. Supporting the Alliance means supporting a vision for using energy more productively to achieve economic growth, a cleaner environment, and greater energy security, affordability, and reliability.