Alliance Announces 2021 Charles H. Percy Award for Public Service Winner
The Alliance to Save Energy News
Alliance Announces 2021 Charles H. Percy Award for Public Service Winner
Release Date: Thursday, November 4, 2021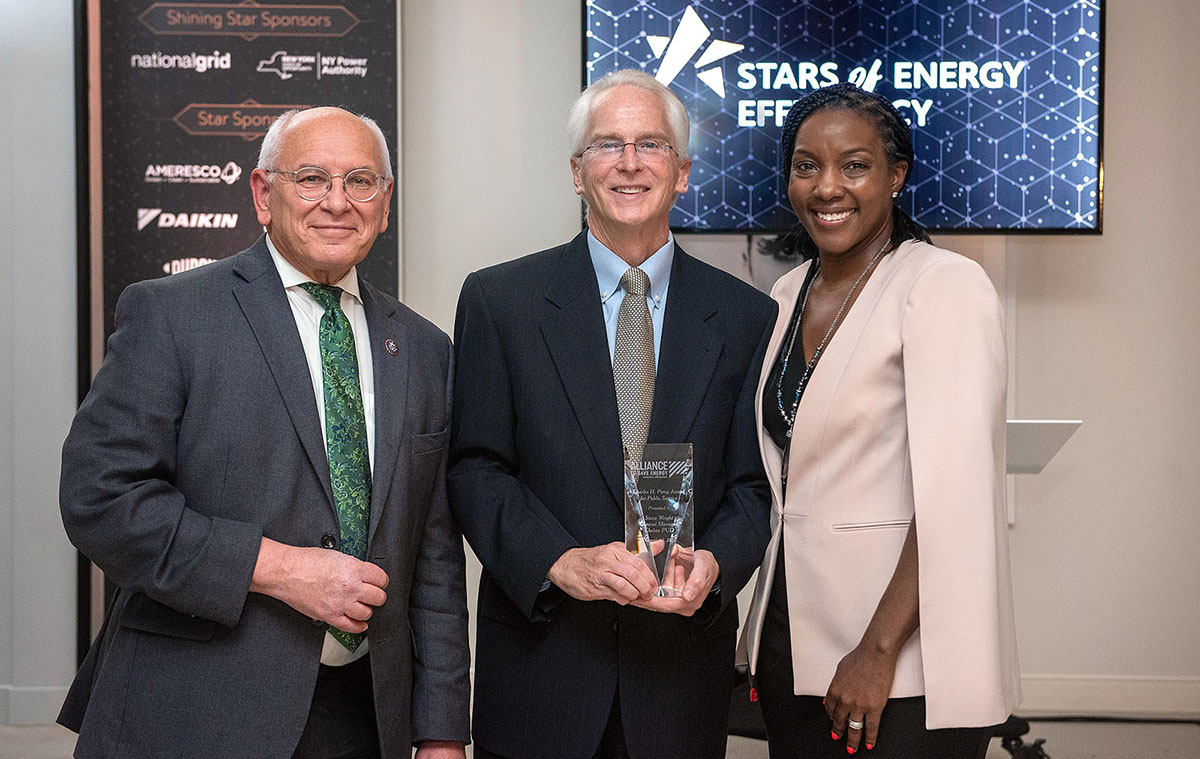 From left to right, Congressman Paul Tonko (D-N.Y.), Chelan County PUD General Manager Steve Wright, and Alliance to Save Energy President Paula Glover.
WASHINGTON –The Alliance to Save Energy proudly presented the 2021 Charles H. Percy Award for Public Service to General Manager Steve Wright of Chelan County PUD on Wednesday, Nov. 3. Since 1995, the Percy Award has been among the sector's highest honors, celebrating outstanding public service in energy efficiency.
While presenting the award at the Stars of Energy Efficiency Awards Reception in Washington, D.C., Alliance President Paula Glover said:
"It takes someone of true commitment and clear-eyed purpose to work in the public service for their entire career, and it's unusual to find people who have that level of dedication, who are willing to put in the hours for year after year, often even without a thank you. So I couldn't be prouder to give a well-deserved and long-overdue 'thank you' to Steve."
In accepting the award, Wright remarked:
"The Alliance to Save Energy represents two beliefs that I hold dear. First, the value of energy efficiency to bridge and connect economic and environmental health for our country. Second, to do the hard work of building bipartisan coalitions. I am deeply honored to receive this award because it celebrates both these missions. Thank you to the Alliance employees who are inspiring with their dedication. Thank you to my many friends and colleagues I have worked with over the last 40 years who share in this award and who deserve the recognition more than me."
Wright entered his career in energy efficiency in 1981 with the Bonneville Power Administration, where he would dedicate more than three decades, including the last 12 years as Administrator/CEO of the federal agency. Under his watch, the Pacific Northwest entered what the Northwest Power and Conservation Council deemed the longest sustained period of regional utility energy efficiency acquisitions in history. In 2013, he was named General Manager of Chelan PUD, where his dedication to cost-effective and customer-friendly efficiency solutions continued. In 2017, he was appointed to the Alliance's Board of Directors. Wright's tenure with Chelan PUD comes to an end in December.
This year's Stars of Energy Efficiency Awards are being presented during a series of regional receptions rather than the annual fall gala to prioritize safety given the COVID-19 Delta variant. The 2021 Stars of Energy Efficiency recipients – the Roman Catholic Archdiocese of New York, Public Service Electric & Gas Company (PSE&G), and Southern California Edison – will be honored at receptions in the coming months, including a Dec. 9 reception in New York City. Read more about the Stars of Energy Efficiency Award winners.
About the Alliance to Save Energy
Founded in 1977, the Alliance to Save Energy is a nonprofit, bipartisan alliance of business, government, environmental and consumer leaders working to expand the economy while using less energy. Our mission is to promote energy productivity worldwide – including through energy efficiency – to achieve a stronger economy, a cleaner environment and greater energy security, affordability, and reliability.
###
Media Contacts
STAY EMPOWERED
TAKE ACTION
Help the Alliance advocate for policies to use energy more efficiently – supporting job creation, reduced emissions, and lower costs. Contact your member of Congress.
JOIN US
Energy efficiency is smart, nonpartisan, and practical. So are we. Our strength comes from an unparalleled group of Alliance Associates working collaboratively under the Alliance umbrella to pave the way for energy efficiency gains.
DONATE
The power of efficiency is in your hands. Supporting the Alliance means supporting a vision for using energy more productively to achieve economic growth, a cleaner environment, and greater energy security, affordability, and reliability.