PowerSave Campus Energy Efficiency Summit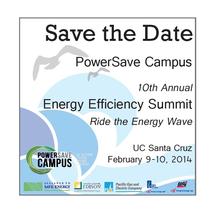 The Alliance to Save Energy's PowerSave Campus Program builds effective partnerships among students, staff, administrators, and faculty from 16 California State and University of California campuses around the common goal of empowering students to be energy efficiency leaders.
The 2014 Energy Efficiency Summit will convene this diverse group for an ambitious event like no other. The agenda will include presentations of cutting edge best practices in energy efficiency, structured campus planning and networking sessions, a student poster exhibit, and more!