Corporate Average Fuel Economy (CAFE) Standards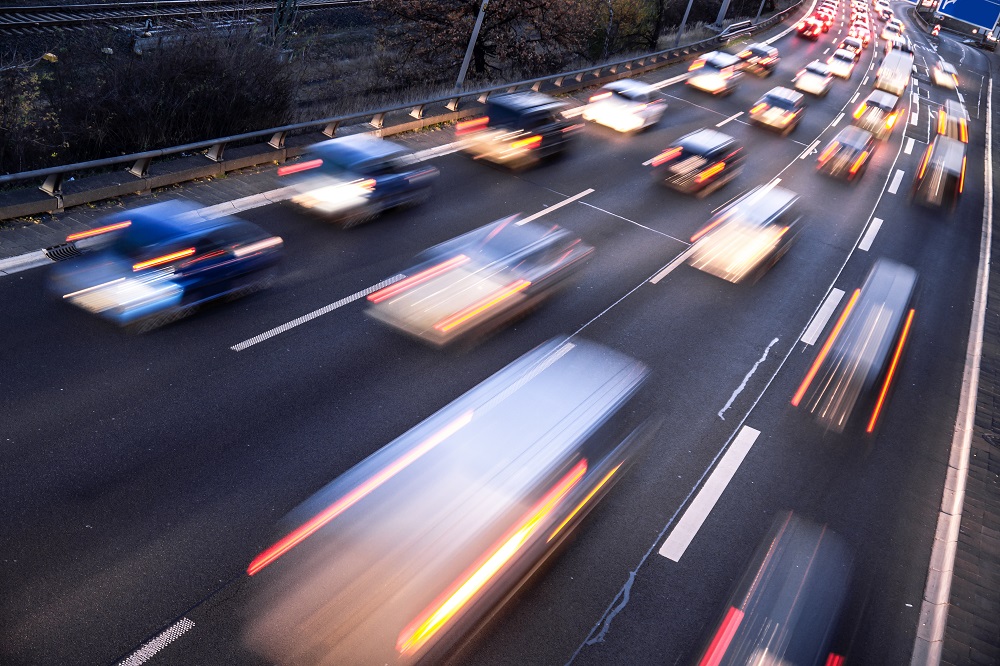 Corporate Average Fuel Economy (CAFE) Standards
Benefits, Past and Future
The CAFE standards and related vehicle emissions standards governing the efficiency of passenger cars, trucks, and other vehicles, have delivered tremendous benefits for consumers, U.S. energy security and competitiveness, and the environment. Called "one of the most impressive efficiency successes in modern memory" by the National Academy of Sciences, the benefits take many forms:
History of CAFE Standards
The energy crisis of 1973 exposed dangerous economic and national security vulnerabilities resulting from our dependence on imported oil, prompting Congress to take action. The CAFE standards were passed in 1975 as part of the Energy Policy and Conservation Act, setting a requirement for manufacturers to produce a fleet of vehicles that reached a specific average fuel economy. This structure – covering a fleet instead of a more prescriptive standard for each vehicle – gave manufacturers flexibility in meeting the standards while accomplishing the goal of improved efficiency. Fuel economy roughly doubled from a fleetwide average of 13.4 mpg in 1973 to 27.5 mpg ten years later. However, as American consumers developed a taste for larger vehicles, the standards were relaxed to 26 mpg for passenger vehicles, and stagnated for a full two decades (Figure 1). In 2007, Congress passed the Energy Independence and Security Act (EISA), which shifted the "one-size-fits-all" standards for cars and trucks to "attribute-based" standards for cars based on vehicle size and boosted federal agencies' authorities and responsibilities. This included requiring the National Highway Traffic Safety Administration (NHTSA) to set standards for vehicle fuel efficiency every year and for the Environmental Protection Agency (EPA) to establish parallel GHG emissions standards for vehicles. As a result, CAFE standards for light duty vehicles rose by roughly 40%, to 35 mpg by 2020.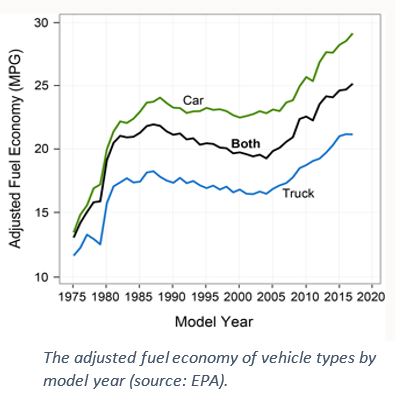 In a political breakthrough to overcome the start-stop nature of standard-setting, an agreement between the federal government, state regulators, and the automobile industry was achieved in 2009 to implement a National Program to develop a forward-looking strategy implementing fuel efficiency standards over the next 30 years. The Program includes NHTSA (to set fuel economy standards) and the EPA (to set emissions standards), as well as the California Air Resources Board (CARB), as the Clean Air Act provided the State of California with the unique authority to set vehicle standards that are more stringent than federal standards. Standards established in 2012 required fleet averages for passenger cars to reach 34.1 miles per gallon (mpg) by MY2016, and to 54.5 mpg by MY 2025. However, on April 2, 2018, the Trump Administration ruled that the standards covering the 2022-2025 timeframe were "not appropriate and should be revised," opening up the possibility of severely weakening the standards going forward.
At the Crossroads
Fuel economy and emissions standards for vehicles bring greater innovation, a stronger economy and competitiveness, a cleaner environment, and a safer sector, and they work best when they provide a consistent and clear path into the future. Weakening the standards will saddle U.S. consumers with more costs and greater vulnerability to unstable fuel prices, hurt U.S. competitiveness abroad, and potentially divide the U.S. market into a patchwork of uneven regulations, sowing confusion for consumers and automakers alike. The choice is clear.
STAY EMPOWERED
TAKE ACTION
Help the Alliance advocate for policies to use energy more efficiently – supporting job creation, reduced emissions, and lower costs. Contact your member of Congress.
JOIN US
Energy efficiency is smart, nonpartisan, and practical. So are we. Our strength comes from an unparalleled group of Alliance Associates working collaboratively under the Alliance umbrella to pave the way for energy efficiency gains.
DONATE
The power of efficiency is in your hands. Supporting the Alliance means supporting a vision for using energy more productively to achieve economic growth, a cleaner environment, and greater energy security, affordability, and reliability.