2007 Alliance Annual Report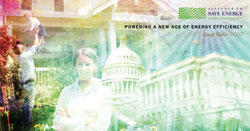 2007 Alliance Annual Report
In 2007, as public awareness of energy efficiency increased, many answered the Alliance's call to action. We witnessed countless situations in which government, academic, business and community leaders worked together to employ energy efficiency – a clean, limitless, 'homegrown' fuel – in a variety of contexts.
What We Did in 2007
Chief among these collaborations was the cross-sector, bi-partisan movement – driven by the Alliance and its allies – to enact the most sweeping energy efficiency legislation in our country's history: the Energy Independence and Security Act of 2007 (EISA). With the signing of EISA into law comes the ability to deploy energy efficiency as a linchpin of our nation's energy security and economic stability, set against the backdrop of a healthy environment.
Notwithstanding the many victories and progress, spurred by the Alliance and recounted in this report, there is much to be done. As a global community, we must now join with our neighbors from around the world to combat the most daunting environmental imperative of our lifetime – one that requires a complete transformation in the way Americans use energy to power our lives.
Looking Forward to 2008 and Beyond
As we seek to tackle global climate change and redefine energy use in new terms, our leaders will look toward experts to guide us in the right direction. The Alliance is prepared to answer this call and to use its abundant resources to create a new age of energy efficiency.
STAY EMPOWERED
TAKE ACTION
Help the Alliance advocate for policies to use energy more efficiently – supporting job creation, reduced emissions, and lower costs. Contact your member of Congress.
JOIN US
Energy efficiency is smart, nonpartisan, and practical. So are we. Our strength comes from an unparalleled group of Alliance Associates working collaboratively under the Alliance umbrella to pave the way for energy efficiency gains.
DONATE
The power of efficiency is in your hands. Supporting the Alliance means supporting a vision for using energy more productively to achieve economic growth, a cleaner environment, and greater energy security, affordability, and reliability.