Tech Beat: What's So Hot About Smart Thermostats
All photos courtesy of Nest.
Smart thermostats are the next generation of temperature control. Get the skinny on these high-tech gadgets, and learn why the Nest is the thermostat world's current darling.
Smart vs. Programmable Thermostat: What's the Difference?
You save as much as 10% a year on heating and cooling by turning your thermostat back 7°-10°F for 8 hours a day from your usual setting (EnergySavers.gov).
You know the downside of traditional thermostats: They require you to manually set your temperature every time you leave, come home, go to sleep, wake up, etc. With all that button-pushing, some people don't bother.
Meanwhile, programmable thermostats allow you to schedule temperature settings. So, you can pre-program the system to turn down while you're at work and asleep. If you program it correctly, these thermostats can lower your heating and cooling bills by about $180/year, says Energy Star. That's a quick return on your investment, as programmable thermostats cost $50-$100.
Alas, some people still don't program their programmable thermostats. That's where smart thermostats come in. For an increased investment ($100-$500), you get a gizmo that works with your irregular schedule and your aversion to fiddling with the controls on your wall, an Energy Star engineer told Earth911.
Smart thermostats have all the features of regular programmable ones, plus: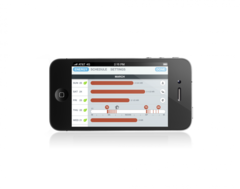 Internet Connection: Smart thermostats are connected to WiFi, so you can change their settings anywhere that has an internet connection. Let's say you go on a vacation. With regular programmable thermostats, you can pre-program the system to turn down while you're away and come back up when you return. But what if there's an unexpected heat wave or cold front? If you want to come home to a different temperature, with a smart thermostat you just have to go online to adjust your setting. Having a connection to WiFi also allows the device to provide weather forecasts, and lets the manufacturer make automatic software upgrades.
Smartphone Apps: Some smart thermostats come with a smartphone app. For instance, the Nest – which is so app-centric it's been called an appcessory – has an app for Apple products like the iPhone, iPhoneTouch, and iPad, as well as for Android 2.2 or newer. Smart thermostat apps make it mobile to save energy, so you can adjust your settings without sitting down to a computer.
Data & Stats: Smart thermostats come with monitoring systems that track your energy use and, through your personal online account, offer charts that show how much energy you're using across the week. With this information, you can identify areas where you are wasting energy and adjust accordingly.
The Nest: What's the Big Deal?
"I'd recommend that people [who don't like programming electronics] buy a Nest Learning Thermostat, and use it like a manual thermostat for a few days. Nest will learn their preferences and create a schedule for them."
— Kate Brinks, Nest spokesperson
When people talk about the Nest Learning Thermostat, they talk about two things: its design, and its ability to learn your favorite settings.
Ease of Use
The Nest's sleek style and effortless user interface is no surprise, given that it was created by a former Apple executive known as the father of the iPod. The Nest has that Apple-like esthetic where designer chic meets Fisher Price. The half-sphere lights up as you approach, and it has a dial to scroll through different settings (think 3-D iPod). It's also easy to install: Thanks to some recent upgrades, most people can set it up in a half hour.
Self-Programming
The Nest learns how to "program itself around your life" through occupancy/motion sensors, ambient light and humidity monitors, and by remembering manual adjustments, according to the Nest website. This includes an "auto away" setting that drops the system down to your pre-set minimum when it doesn't detect movement (so, it's important to put the Nest in an area you regularly walk by).
The Nest, which came out in October 2011 and quickly sold out, is available through its own website, Best Buy, Apple, Lowe's and Home Depot. It released its 2.0 version in April 2012, which extended energy history data; added more elements to reports, like the trigger for turning on heating or cooling systems turned; and launched an electricity-saving feature that keeps air conditioner fans running without the compressor.
Some users complain that preferred temperature is a bit delayed because the Nest doesn't support Early Start, which ramps up the system before the scheduled time so the temperature is where you want it by the time you've set it. However, Nest does include a "time to temperature" feature that shows what the temperature in your home will be in 10 minutes, 1 hour, 2 hours, etc., based on the current settings and the weather outside.
Other Smart Thermostats: How do They Compare?
Although the Nest gets the most play as the thermostat of choice by energy efficiency lovers and gadget geeks alike, there are other several smart thermostats on the market.
Smart Thermostats, Smart Meters & Smart Grid: What's Next ?
As the nation updates its electric grid to a smart grid – one that can automate the complex electricity needs of the 21st century – utilities are installing smart meters on their customers' homes and buildings. Smart meters provide data on energy use to improve energy efficiency across neighborhoods and are expected to reach 40% of U.S. electricity customers by the end of 2012.
As part of this process, several utilities are offering smart thermostats to new customers, and to existing customers with new smart meters. In fact, PG&E is working with Honeywell to pilot its new line of smart thermostat and cloud platform, which runs customer management and data analysis software from Opower.
Check with your local utility to see if it has any smart thermostat programs in the works.
More on Thermostats
"Tech Beat" is a series of articles by the Alliance to Save Energy on energy-efficient technology.