Home Energy Assessment: Bringing in a Professional to Spot Energy Waste
Photo: Professional home energy assessment. Credit: Small Town Energy Program for University Park (STEP-UP).
A home energy assessment (also known as a home energy audit) pinpoints where your home is wasting energy – like wall cracks that leak heat and AC – and points you to improvements that make your home energy efficient. Although you can perform your own home energy assessment, hiring a professional ensures that all potential issues won't get overlooked.
The U.S. Department of Energy says every $1 invested in an energy improvement project can save up to $7 in energy costs over the lifetime of the improvement. Those dollars can add up to significant savings.
Be honest – will you really notice things like discoloration against a wall (which might be a sign of an unsealed gap letting in cold air)? Professional home energy auditors will. Professionals also perform more detailed audits with advanced tools like infrared scanning and thermal imaging.
Choosing a Professional Energy Contractor
Ready for your energy audit? Contact your utility company. Many utilities offer discounts and recommend individual energy auditors. You can also find energy auditors at the Residential Energy Services Network or the Building Performance Institute.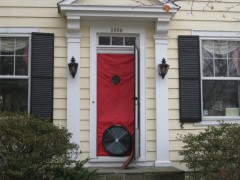 But before contracting with an energy auditing company, you should:
Contact references to see if they were satisfied with the work.
Ask the energy auditor company to make sure its professionals use a calibrated blower door.
Ask the energy auditor company if its professionals conduct thermographic inspections or contract another company to conduct one.
Photo: Outside view of a blower door test, which you can get through a professional energy audit. Credit: STEP-UP.
Get the Most Out of Your Professional Home Energy Assessment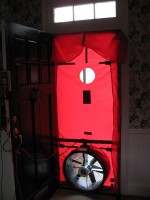 Once you've chosen your energy auditor, ensure you get the most out of the visit by:
Having your latest utility bills and a list of specific concerns on-hand for when the energy auditor arrives at your home
Telling your energy auditor about your family's lifestyle to help tailor energy-saving recommendations to your needs and budget (such as what rooms are rarely used and what times is the house empty)
Photo: Inside view of a blower door test, which you can get through a professional energy audit. Credit: STEP-UP.
After the Home Energy Assessment
Upon completing the home energy assessment, the energy auditor recommends improvements ranging from simple, low-cost solutions to full retrofits that require a big investment. Find out how long it will take for home improvements to begin "paying for themselves." Keep in mind that while the energy auditor can make recommendations, the progress and savings rest on the changes you choose to make.
Remember, you don't pay for energy you don't use. By getting a thorough assessment of energy gaps in your home, you can make your home more energy efficient, lower your bills and be more comfortable.
Talk to Us on Facebook!
Have you had a formal energy audit? If so, we'd love to hear about your experience and any improvements you've made! Comment on our Facebook wall and keep an eye out for home energy audit conversations in our daily Facebook status updates.
Other Home Energy Resources