Energy-Efficient Lighting: New Labels
As you see more energy-efficient light bulbs on store shelves, you also will notice newly redesigned packages with helpful facts.
The Federal Trade Commission (FTC) and lighting manufacturers are placing more information on and around your light bulbs to make purchasing easier.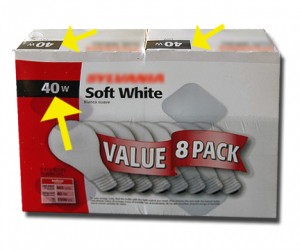 The Old Package
Light bulb packaging for incandescent bulbs has traditionally been labeled with watts. But watts measure energy used, not brightness.
To provide a more accurate measurement of brightness – and to keep up with new, energy-efficient bulbs that use fewer watts to shine just as bright – labels on bulb packages are increasingly featuring lumens.
Lumens measure the amount of light produced by a bulb. Want to know the difference between a watt and a lumen? Find out now.
Labels Show Lighting Facts…
The FTC's labels for energy-saving bulbs – which should appear on all bulb packages in 2012 – will look similar to nutrition labels on food. These labels will feature concise information about output and savings (see image on right).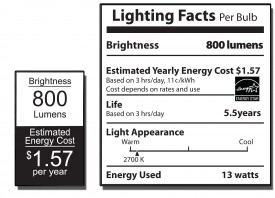 The labels will include:
Brightness (in lumens)
Estimated yearly energy cost
Life expectancy of the bulb
Light appearance
Energy used
… And Bulb Packaging Illuminates Savings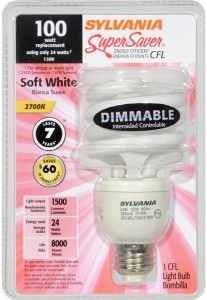 Manufacturers also are changing the look of their overall packaging to help even more. For instance, the CFL in the photo on the right says the Sylvania Super Saver CFL is a replacement for a 100 watt bulb with a lumen (brightness) output of 1500. The actual energy used is only 24 watts, so you save $60 in energy costs over the seven-year lifespan of the bulb.
More on New Lighting Labels
The Difference Between Lumens & Watts