he Energy Efficient Buildings Hub (EEB Hub) is a member organization that was established as an Energy-Regional Innovation Cluster on February 1, 2011 with funding from the Department of Energy.
n April 24th, the EEB Hub celebrated the groundbreaking of a new 5,200 square-foot building to house the Center for Building Energy Education and Innovation and the renovation of the 38,000 square-foot Navy Yard Building 661 (renamed the Center for Building Energy Science). The buildings will function as the headquarters for the EEB Hub and will "facilitate public education and outreach on matters related to building efficiency".
​
Navy Yard Building 661/Center for Building Energy Science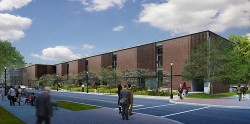 An artist's rendering of the Center for Building Energy Education and Innovation
The Center for Building Energy Education and Innovation will incorporate a number of sustainability features including geothermal wells, passive solar shading, and a "storm water management system which will collect water from the building's green roof and direct it to a sculptural field of Pennsylvania slate and boulders, then use it to irrigate the landscape and flush toilets." The building will house training classrooms and a two-story lecture hall that can accommodate 180 people.
The Center for Building Energy Science used to function as a recreational facility but has been unoccupied for nearly two decades following the Philadelphia Naval Shipyard closing in 1995. Upon completion it will be equipped with "extensive monitoring to collect indoor environmental quality data and experimental modeling and test strategies will be developed. Whole-building system-performance metrics will be used to create and validate existing and new models for energy efficiency in building retrofits." The building will house conference rooms, office spaces, the Immersive Construction Laboratory, and a symposium that can seat up to 120 people.
The construction and renovation are expected to be completed by spring 2014.
EEB Hub Goals & Objectives
Working together with partners that span industry, government, and academia – the primary goal of the EEB Hub is to achieve 20% energy reduction in commercial buildings in Greater Philadelphia by 2020.
In order to achieve this goal, the EEB Hub is determined to accelerate the adoption of Advanced Energy Retrofits (AER) - retrofits that makes use of cutting edge technologies, systems and processes to achieve significant energy and economic savings. Alongside advancing AERs, the EEB Hub's objectives are to:
Develop and deploy to the building industry a state-of-the-art modeling platform to integrate design, construction, commissioning, and operation.
Demonstrate the market viability of integrating energy saving technologies for whole building system solutions at the Navy Yard and elsewhere in the region.
Identify policies that accelerate market adoption of energy efficient retrofits of commercial buildings and support policy makers in the development of such policies in the Greater Philadelphia region.
Inform, train, and educate people about proven energy saving strategies and technologies whether they design, own, construct, maintain, or occupy buildings.
Help launch business ventures that will exploit market opportunities for providing whole building energy saving solutions.
The EEB Hub plans to extend its program to the remainder of the country upon successfully achieving its goal to reduce energy consumption in commercial buildings by 20% by 2020.