Competition Boosts Energy Efficiency Among Friends and Neighbors
As initiatives that target behavior to curb energy consumption spread nationwide, competition is emerging as an increasingly useful tool to motivate people.
Comparing people with their peers is one of the most effective ways to get them to lower their energy consumption – even if they don't care about the environment, says Robert Cialdini, a social psychologist at Arizona State University who is known as the godfather of energy behavior change. With competition in the air given the Olympics and the U.S. presidential race, take a moment to learn how friends and neighbors embrace their competitive spirit to save energy at home and at work.
Competition Among Friends on Opower's Facebook App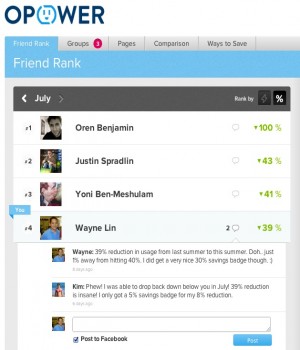 Opower is known for encouraging neighbors to compete for energy savings with its home energy reports, which feature easy-to-read energy-use comparisons of neighboring homes. But the software company has recently been making headlines for its Social Energy app, a Facebook app that encourages friendly competition among Facebook friends.
The app's competitive features include "Friend Rank," which compares your energy usage to that of your friends (see screenshot on right). App users can also invite friends to a "group" with a specific energy goal. In a group, members compare energy use, boast, and goad each other onto sometimes creative energy-saving tactics – one recent conversation revolved around the energy-saving potential of forgoing reality TV. 
Although the app is only four months old and still in its beta testing stage, Opower is already seeing the signs of energy-savings to come. "What we're seeing is that people are having really authentic conversations about their energy use," said Wayne Lin, Opower's product management director. Lin noted that it's hard for utilities to generate buzz around energy use because their language can be "markety," but the social aspect of Facebook is continuously spawning genuine conversations about how to save energy.
"And if people can have genuine discussions about energy use, that can lead to behavior change and reducing the amount of energy they're using," Lin said.
The app has over 5,000 monthly users and 800 Likes, and Opower expects that to rise exponentially as word gets around.
In the meantime, social app users are trying out some advanced competitive features, like "badges" that indicate how much of an energy efficiency rockstar you are. The badges, which get posted on your Facebook wall, indicate how many kWh of energy you used in the past month. There are 11 types of badges, including the "tree house" badge (see image, left) for whose who only used 100 kWh in the past month, and the coveted "tent" badge for 50 kWh users.
More on the Opower Social app:
Keeping up with the Joneses in a Maryland Neighborhood
If you think of "Keeping up with the Joneses" as having the biggest house, car, and TV on the block – think again. A couple of miles from the University of Maryland, the Small Town Energy Program of University Park (STEP-UP) got dozens of neighbors to vie for the mark of energy efficiency: a large yard sign proclaiming that a homeowner had a home energy evaluation and completed recommended energy-efficient improvements.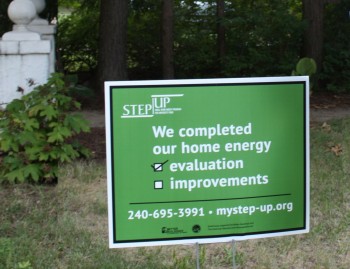 Currently, 120 households sport the signs on their front lawns. Most of those households are in University Park, where the program launched in January 2011, but they also are cropping up in College Heights Estates, Riverdale Park, and Hyattsville, where the program began in July 2012. 
When participants started putting up their signs in August 2011, the number of households joining the program nearly tripled. New members promptly completed their home energy evaluations and improvements, placing check marks for each accomplishment on their signs, said STEP-UP Energy Coach Suzanne Parmet. 
"Right after the signs went in, we received lots of calls from people saying, 'I see my neighbor has a sign, how do I get one?' People just really took to the signs and were excited about them." The signs were such a hot commodity, in fact, that one was reportedly stolen.
STEP-UP encourages participants to keep their signs posted for 30 days (and then recycle them), but most people keep the signs up for months.
The competition tactic (along with STEP-UP's financial and logistical assistance) worked: In the first year of the program, nearly a quarter of University Park's 923 homeowners signed up for home evaluations, and half of those people made home improvements. Even better, the upgrades are reducing energy use by an average of 15% per home – allowing homeowners to save $375 per year on their utility bills.
More on STEP-UP: