Campus Conservation Nationals 2013: PowerSave Campus Awards California Champions
Over 150 colleges and universities are actively competing to save energy in the nation's third-ever round of "Campus Conservation Nationals" (CCN) before it concludes on April 6. Last year's campaign decreased energy use by a whopping 1.7 million kWh of electricity and nearly $160,000, and this year's campaign seeks to double its achievements by setting a collective goal of reducing usage by 2 million kWh before the end date. This initiative, organized by the Alliance to Save Energy in partnership with Lucid Design Group, the U.S. Green Building Council and the National Wildlife Federation, brings together nearly 250,000 students from 150 colleges and universities across the United States and Canada to save both energy and water in their residence halls.
Contributing to the national goal of 2 million kWh in energy reduction over the February 6-April 6 time frame, ten of the Alliance to Save Energy's 16 California PowerSave Campus Program schools participated in CCN: Chico State, UC Berkeley, UC Merced, Cal Poly San Luis Obispo, UC Santa Barbara, CSU Fullerton, Cal Poly Pomona, UCLA, UC Irvine, and San Diego State. These campuses also competed against each other within their own CCN league.
The number of competitors participating in this particular league nearly doubled in comparison to last year's league, in which the Alliance crowned champions amongst only six competing campuses. This year, these ten campuses worked closely to simultaneously launch their respective three-week energy competitions on February 6 which cumulatively saved 88,000 kWh, and $11,500. Friendly rivalry and interest by the PowerSave Green Campus teams ran high during the race for highest energy savings, with several campuses jockeying for championship positions. UC Santa Barbara raffled t-shirts, Cal Poly San Luis Obispo visited dorms in a polar bear costume, and UC Irvine offered gourmet cupcakes to encourage student residents to change behavior and save energy. But after much anticipation, the CCN PowerSave Green Campus League awards for greatest energy savings ultimately went to one California State University and one University of California winner: CSU Chico and UC Merced.
CSU Champion Chico State Crowned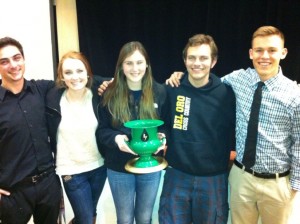 PowerSave Green Campus Interns at CSU Chico used a volunteer network to spread the word (and the savings) in order to reduce energy usage by 12.8% over the course of the competition. They also kicked off the savings with several events including a launch party – complete with DJ, pizza, raffle prizes, and photo booth – energy efficiency trivia nights in the residence halls, and frequent updates on building energy performance. This consistent stream of communication helped CSU Chico secure its spot as the top-reducing campus in the PowerSave Campus League, and gain support from the over 800 students who attended these events.
"First year students were a fabulous group to teach and work with because of their enthusiasm about becoming familiar and engaged on campus," said PowerSave Green Campus Intern Project Coordinator Hilary Queen. "Because of the competitive atmosphere between the two identical residence halls, we could really fan the flame of the Wildcat Sustainability Showdown," the name of the team's energy competition, "and cut energy consumption by nearly 13%!"
Photo: Winning CSU Chico Eco-Reps take a photo with their Green Cup trophy, made of recycled materials.
UC Merced Wins League Second Year in a Row as Overall UC Champion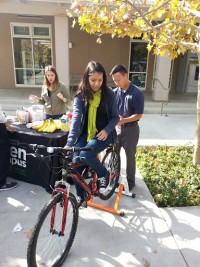 The UC Merced PowerSave Green Campus team, champions of last year's league, returned with even bigger energy savings in order to secure a championship spot in the UC category, decreasing building energy usage by 8.2% in student dorms.
The team attributes its success to catchy marketing and opportunities for involvement amongst the student residents. "Not only were we interacting with them online," said Martin Figueroa, PowerSave Green Campus intern team manager, "but also constantly on a one-to-one basis."
One example was a widespread video campaign encouraging students to become "Energy Watchers" and to take down energy "hogs" through responsible behavior. The videos, broadcast around campus, complemented the host of flyers, posters, and e-mail blasts encouraging students to do the same.
The intern team also hosted outreach events ranging from teaching students to conduct mini-energy assessments to making their own smoothies by pedaling an energy-generating bicycle hooked up to a blender. These frequent and fun activities kept residents engaged while learning how to save energy. Thanks to the team's efforts, students turned off lights, took shorter showers, and reduced plug loads to save the university nearly 3,000 kWh in energy costs and avoid 1,500 pounds of carbon dioxide emissions!
Photo: A UC Merced student rides the PowerSave Green Campus interns' energy-generating bicycle during an event promoting the team's participation in Campus Conservation Nationals.
More on PowerSave Green Campus and CCN
The PowerSave Green Campus program is funded by the investor-owned utilities of Southern California Edison, Pacific Gas & Electric, Southern California Gas, and San Diego Gas & Electric).