The 2013 Stars of Energy Efficiency Are...
Seven diverse, yet equally outstanding leaders in energy efficiency! Congratulations to the 2013 Star of Energy Efficiency Award Recipients:
Secretary of Navy Ray Mabus has been selected by Senator Mark Warner (D-Va.) to receive the prestigious Chairman's Award for his commitment to helping make the U.S. Navy a global leader in energy efficiency.
Regional Greenhouse Gas Initiative (RGGI) will receive the Charles H. Percy Award for Public Servicefor its investments to spur energy efficiency improvements for businesses and homes in 10 Northeastern states.
Los Angeles County Metropolitan Transportation Authority (Metro) is awarded the Galaxy Star award for outstanding energy efficiency improvements in the Metro's fleet and buildings, helping achieve $2 million dollars in annual savings.
Lime Energy is the recipient of the Super Nova Star award for its Small Business Direct Install model which works with nine utilities in six states to help small businesses become more energy efficient.
Keystone Home Energy Loan Program is this year's Andromeda Star award recipient for providing low-cost financing options to help Pennsylvania residents perform energy-saving ENERGY STAR improvements in their homes.
Whirlpool Corporation is this year's Innovative Star award recipient for introducing a new line of Smart Grid home appliances that will educate consumers on how to avoid peak times to maximize energy efficiency.
The Building and Construction Authority of Singapore is receiving the International (I-Star) award for its commitment to achieve a national target of greening at least 80% of the buildings in Singapore by 2030.
Join Us!
Over 500 industry leaders, including members of Congress, high-ranking administration officials, and titans of industry, will gather on October 2nd at the Andrew W. Mellon Auditorium in Washington, D.C. to raise a glass in recognition of the monumental achievements made by these stellar award winners. Learn more about the 2013 award recipients via the links on the
dinner homepage
.
Become a part of this 21st annual celebration by contacting
Marcy Devaney
for information about sponsorship, tables and seating options. We look forward to seeing you in your black-tie best in October!
About the Evening with the Stars Event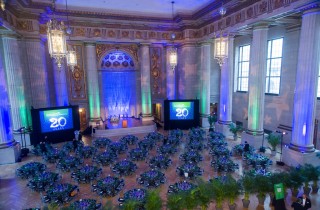 The Evening with the Stars of Energy Efficiency Awards Dinner has been the preeminent showcase for energy efficiency's most industrious advocates and innovators since its inception in 1993.
Audience: This prestigious, black-tie affair is held in Washington, D.C., and typically draws over 500 energy notables from industry, government and academia for an evening of fine dining and celebration.
Awards: The Star of Energy Efficiency awards are bestowed upon individuals, organizations, companies, learning institutions, and government programs that have demonstrated a significant and tangible commitment to the cause of energy efficiency both in the United States and abroad.
Leadership: The Star of Energy Efficiency award recipients are selected each year by the Dinner and Awards Committee, which includes 15 diverse industry representatives. The committee reviews all nominations, selects finalists, and ultimately selects the recipients in each award category.