Currently on 16 universities and employing over 75 interns each year, PowerSave Campus empowers college students to be tomorrow's energy efficiency leaders. PowerSave Campus is a student-driven energy efficiency education program that promotes careers in the field, generates actual energy savings, increases awareness of the importance of energy efficiency, and encourages academic infusion of sustainability concepts.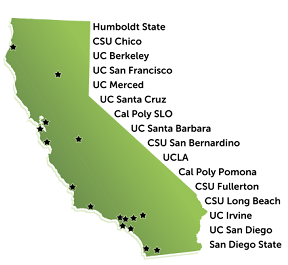 Projects range from energy audits and assessments, residential and laboratory energy competitions, intern-led and faculty sponsored academic courses, green career fairs, and energy efficiency technology retrofits. Students work closely with faculty, staff, administrators and other students to engage them in their projects, spearheading educational campaigns that involve the entire campus community.
More than four-fifths of the college student interns who participate in the Alliance's PowerSave Campus program go on to get jobs that support sustainability. In fact, 83% of PowerSave Campus graduates currently hold a "green job," defined as work that contributes substantially to preserving or restoring environmental quality. Furthermore, 98% of PowerSave Campus alumni continue to support sustainability after graduating from the program.
PowerSave Campus Structure and Resources
PowerSave Campus interns work closely with administrators, faculty, and staff to create a strategic plan that addresses each of the program's goals and is uniquely tailored to the needs, challenges, and strengths of their school.
PowerSave Campus is a student-driven program; each PowerSave Campus school has funding for a team to share an approximately full time equivalent position.
The Alliance to Save Energy recruits, selects, and oversees between three and six interns per campus; with supervision from Alliance staff, and input from campus staff, these interns are primarily responsible for the day-to-day implementation of PowerSave Campus at their school.
The Alliance supports PowerSave Campus interns through continuous remote consultation, regular on-campus visits, and biannual program-wide convergences.
Interns at PowerSave Campus schools have an implementation budget that they use to secure space for events, incentivize student conservation, and purchase new metering equipment.
PowerSave Campus Rationale
Educational campaigns can result in significant energy savings by changing behaviors and purchasing decisions.
Students are effective advocates on college campuses, able to reach their peers and high-level decision makers.
Students can offer valuable assistance in greening campus operating procedures and with integrated demand side management; student research can defer information gathering costs inherent in switching from conventional to more sustainable practices and management strategies.
PowerSave Campus enriches students' educational experience while allowing them to take more responsibility for campus operations.