The Energy Efficient Codes Coalition is now campaigning to put future International Energy Conservation Codes on a glide path of continued progress.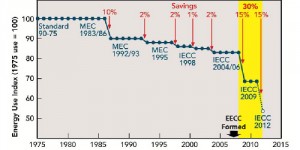 EECC will coordinate the national campaign to build on the historic efficiency gains of the 2012 International Energy Conservation Code (IECC), defeat proposals that weaken efficiency, and develop an updated 2015 model energy code that is more efficient than the 2012. Develop and evaluate proposals that employ existing "state-of-the-shelf" technologies to improve model energy codes.
Adoption Support
EECC works closely with RECA, BCAP, and regional energy efficiency organizations (REEOs) to support state and local adoption of the most efficient energy code for new and renovated homes and commercial buildings.
Remove Impediments to Efficiency Improvements
Work with builders to support the enactment of the SAVE Act (S. 1106), which will ensure that a new or existing home's expected energy cost savings will be included in its value and the purchaser's affordability.