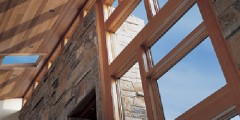 The Efficient Windows Collaborative (EWC) is a coalition of window, door, skylight, and component manufacturers, research organizations, federal, state and local government agencies, and others interested in expanding the market for high-efficiency fenestration products. Its goals are to double the current market penetration of efficient window technologies, and to make National Fenestration Rating Council (NFRC) labeling a near-universal practice in U.S. markets.
EWC members have made a commitment towards manufacturing and promoting energy efficient windows, and represent manufacturers, suppliers, and affiliates to the window industry.
The Efficient Windows website (www.efficientwindows.org) provides unbiased information on the benefits of energy-efficient windows, descriptions of how they work, and recommendations for their selection and use.