POLICY PRIORITIES FOR THE 116TH CONGRESS:
APPROPRIATIONS: Accelerating Efficiency Through Federal Investments »
Federal efficiency programs are a catalyst of innovation and technology deployment, helping to maintain U.S. leadership in a rapidly growing global efficiency economy...
Research and development at our world-class National Labs are at the cutting edge of efficiency technology from material sciences to vehicle innovation, while public-private partnerships like ENERGY STAR drive markets – and innovation - toward high-efficiency products.

In 2016 alone, ENERGY STAR – which has a $42 million budget – helped American consumers and businesses save more than $30 billion in energy costs and 400 billion kWh of electricity, delivering carbon emission reductions of 320 million metric tons – or the equivalent of the entire energy use of nearly 35 million homes for one year. Source: EPA

One of the Alliance's top priorities is to ensure these programs are fully funded:

Efficiency initiatives at the Department of Energy's Office of Energy Efficiency and Renewable Energy (EERE), which cover a broad range of efficiency initiatives from establishing minimum efficiency standards for more than 60 categories of common appliances and equipment to developing and deploying advanced manufacturing technologies to providing weatherization assistance to low-income Americans.
World class R&D taking place at our national labs on the next generation of efficiency technologies.
Public private partnerships that stimulate efficiency in the marketplace, including ENERGY STAR, the Better Plants/Better Buildings Initiative, and WaterSense.

Third-party, peer-reviewed studies show that total taxpayer investment of $12 billion to date in R&D at the Department of Energy's Office of Energy Efficiency and Renewable Energy has yielded more than $388 billion in net U.S. economic benefits.
BUILT ENVIRONMENT: Maintain Strong Codes and Standards While Modernizing Buildings Policy »
Existing homes and buildings – and new ones under construction – will be in use for decades to come, with enormous implications for U.S. energy consumption...
The built environment currently accounts for about 40 percent of our energy use, making it ripe target for smart efficiency policy. National energy efficiency standards for appliances and other products, for example, remain among the most impactful energy policies in U.S. history. Originally signed into law by President Ronald Reagan in 1987, efficiency standards accelerate deployment of efficiency technology while delivering billions of dollars annually in household energy savings and equally impressive emissions reductions. The Alliance supports:
Robust, regular, and transparent updates to cost-effective appliance and equipment standards by the Department of Energy.
Strengthened federal support and technical assistance for developing, adopting, and complying with building energy codes.
R&D initiatives, pilot programs and public-private partnerships that help drive innovation – such as in systems-based building efficiency technology – and deploy it into the marketplace.
Currently, a typical American household saves about $500 per year as a result of efficiency standards for common household appliances and equipment.
TAX: Stimulating Efficiency Through Tax Incentives »
While the federal government encourages nearly every mainstream form of energy generation through tax incentives – and has done so for decades – ...
While the federal government encourages nearly every mainstream form of energy generation through tax incentives – and has done so for decades – there are currently no direct incentives for energy efficiency in the U.S. tax code. This is a glaring and shortsighted omission that Congress should rectify with long-term, meaningful incentives encouraging consumers and businesses to improve efficiency in homes, buildings, heating and cooling equipment, vehicles and other products. Decisions made today will have lasting consequences for both energy costs and carbon emissions. The Alliance supports tax policy that includes:
Long-term, predictable incentives that give businesses and consumers the certainty they need to invest in efficiency.
Incentives for retrofitting existing homes and commercial buildings and building new high-efficiency homes and buildings.
Incentives for high-efficiency equipment such as heating and air conditioning, insulation, windows and doors, lighting systems, and water heaters.
Incentives for electric vehicles and other high-efficiency transportation solutions.
According to a recent U.S. Department of Energy analysis, extending a consumer tax credit for high-efficiency air conditioners, water heaters, furnaces and heat pumps for 10 years would increase sales an average of 54 percent and reduce household energy bills by $13.1 billion.
"We're doing energy tax policy backwards by incentivizing production and ignoring efficiency, which is where we should start. The cleanest and cheapest power is the power we don't use, and we need smart, long-term tax incentives to encourage energy efficiency in the marketplace. These incentives will pay for themselves over and over again by stimulating economic activity and jobs, delivering consumer savings on energy bills and reducing pollution." – Alliance to Save Energy President Jason Hartke
INFRASTRUCTURE: Investing in Efficient, Resilient Infrastructure »
Infrastructure is more than roads and bridges – it's our utility grid, water and wastewater facilities, buildings, airports and other structures...
These facilities have an enormous impact on U.S. energy consumption, and a nationwide infrastructure initiative presents an opportunity to "get it right" and save taxpayers decades of wasted energy costs, while improving reliability and resilience by stabilizing demand on the power grid, creating well-paying jobs, and reducing emissions. In some cases, infrastructure projects can pay for themselves through public-private partnerships and innovative financing around energy savings. Efficiency opportunities in an infrastructure package include:
Incorporating requirements to build to updated energy codes and include high-efficiency equipment.
Applying life-cycle cost-effectiveness analysis and accounting for efficiency cost savings in all appropriate projects to ensure the project plan considers costs incurred over the project lifetime, not just up-front costs.
Expanding opportunities for public-private partnerships, including performance contracting for government facilities, which leverage savings from improved efficiency to finance infrastructure projects.
Investing in a modernized grid, including expanding smart meters nationwide to empower utilities and consumers to use energy more wisely.
The average community water system can account for up to 40 percent of a municipality's total energy consumption. And each year, the nation's drinking and wastewater systems spend around $4 billion on electricity to move and treat their water supply, accounting for approximately 4 percent of the nation's total annual energy consumption.
TRANSPORTATION: Preparing for a Rapidly Changing Transportation Sector »
The U.S. transportation sector – which accounts for about one-third of U.S. energy consumption and carbon emissions – is undergoing a major transformation that has enormous implications for energy use...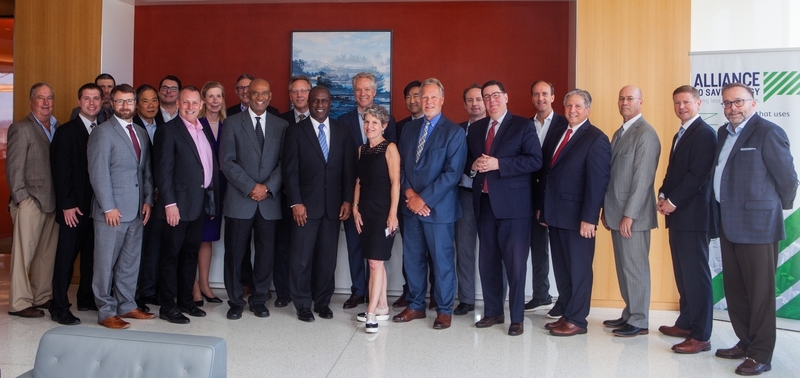 New technologies and business models in electrification, autonomous vehicles, ride-sharing, mass transit, and data-driven freight logistics are creating an opportunity to reinvent mobility for a smarter, more integrated system that uses energy more efficiently. This requires new policy and coordination. The Alliance 50x50 Commission on U.S. Transportation Sector Efficiency outlined a series of recommendations in a 2018 report that form the basis for our transportation priorities in 2019. Specific policy opportunities include:
Extending and expanding incentives for high-efficiency vehicles and the development of charging/fueling infrastructure.
Strengthening fuel economy and vehicle emissions standards.
Investing in R&D in new transportation technologies and facilitating cooperation to ensure smooth, efficient adoption of automated vehicle technology.
Investing in and deploying greater efficiency in mass transit, freight transportation and port operations.
The transportation sector surpassed the electric power sector in 2016 to become the greatest source of U.S. greenhouse gas emissions.
Other Policy Priorities »
Federal Government Leadership on Efficiency: » The federal government is the largest energy user in the country and has a unique platform for leadership in efficiency, as demonstrated by the Pentagon and other agencies in recent years. By employing innovative efficiency practices and promoting success stories, federal agencies can show the way for private sector adoption – all while saving taxpayer dollars in reduced energy costs and reducing the government's carbon footprint.
$6 billion – The amount federal agencies spent on energy for buildings alone in 2015.
Workforce Development: The energy efficiency economy is among the fastest-growing in the energy sector, with employers in construction and other fields consistently reporting difficulty in finding skilled employees. These jobs are being created in local communities across the country, and they represent a tremendous opportunity for workforce development to train the next generation of energy efficiency workers.
Nine percent – expected annual growth rate in efficiency jobs.
Affordability and Equity: One in three U.S. households face challenges in paying their energy bills and nearly 15 percent report receiving notices threatening to disconnect service. Energy efficiency – including updated building energy codes minimum efficiency standards and investments in weatherization assistance – is the smartest way to address this inequity by reducing the outsized energy burden facing low-income families.
Households earning less than 200 percent of the federal poverty level spend an average of 16.3 percent of their income on energy bills, while households earning more than 200 percent of the poverty level spend an average of 3.5 percent.
Carbon Pricing: We have seen increased bipartisan support for a carbon tax aimed at reducing carbon emissions in a market-based, technology-neutral fashion. The Alliance supports a carbon tax as one of many viable policy options for driving efficiency. Carbon pricing by its nature should encourage efficiency by putting a price on emissions. Policy design is complex, however, and legislation must be thoughtfully structured to achieve results, including through complementary policies and programs helping energy consumers realize savings.
"The future will belong to the super­­efficient." – Amory Lovins, Co-Founder and Chief Scientist, Rocky Mountain Institute